Indeed, and here he was just before delivering it, earlier this evening, to the assembled friends and supporters of the Libertarian Alliance, at the National Liberal Club: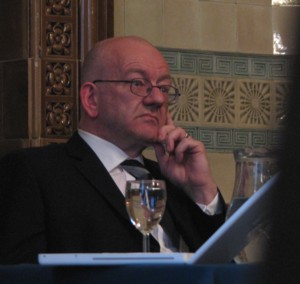 His subject was Public Goods and Private Action: How Voluntary Action Can Provide Law, Welfare and Infrastructure – and Build a Good Society.
Academics who are supportive of the free market and the free society tend to be economists. Such thinkers might have based an argument like that one on economic theories concerning the alleged possibility and desirability of such arrangements. But Dr. Davies is a historian, with a wealth of knowledge concerning how such arrangements did exist, and accordingly might again. It is hard to argue with any persuasiveness that voluntarily funded policing, or unemployment insurance, or roads or railways cannot exist, if the fact that these things actually did exist is widely known. The current crop of fiscally disastrous and morally destructive social and infrastructural policies depend for their continuation on perpetuating ignorance of how such voluntary alternatives existed in the past. (Hence in particular the importance of voluntarily organised and voluntarily funded education.)
Dr. Davies argued that the current fiscal crisis of the modern state, not just in Britain but everywhere, means that an historic opportunity now exists to revive such ideas as these.
A fellow Samizdatista asked, during the Q&A that followed Dr. Davies's lecture: Will the text of it be published? Answer: yes. I await this text with eagerness, as do many others. All to whom I spoke afterwards agreed that this was an outstandingly effective and informative lecture.