I try to carry a digital camera with me at all times. Here is a reason why, which I happened to encounter this afternoon in Victoria Street. It was a seriously cool version of the latest Rolls Royce, which looked to me like it was a particularly scary member of the Wehrmacht: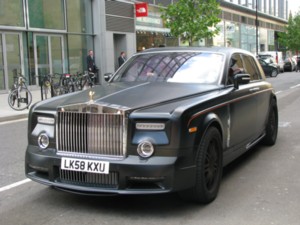 I particularly liked the intimidating hubcaps, so often an opportunity for gold or silver glitter on cars like this, but here, like everything else, painted in scary military dark grey: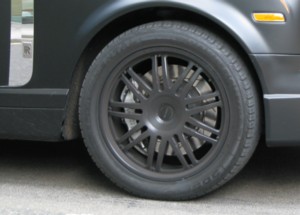 The only gold I could see was the classic Rolls Royce statue on top of the radiator. Click on either picture to get it bigger.
I don't know what kind of money it was that paid for this vehicle, but I bet it's quite a story. Failing that, it is the kind of money that at least wants you to think it's quite a story. Any ideas? The driver wasn't wearing a uniform, by the way. He was young, and casually dressed. He completely ignored me, although he must have known I was photoing his car. And he must get this a lot.