Regular Times columist Matthew Parris writes eloquently, if with somewhat sweeping generalisation, about how "we" do not want to hear the truth. "We" do not want change. "We" want things to carry on as they are. "We" want to stay as well off as "we" are, and will snarl and rage at any politician who dares to even hint otherwise. He has a point. Whichever combination of politicians turn out to have lumbered themselves with the grim task of running the next British government will have to cut, cut and cut. So, what should they cut?
Let me prove that Matthew Parris's generalisations don't entirely apply to me by suggesting a reduction in some at least of the fluid that I personally now suck from the governmental tit. How about abolishing these?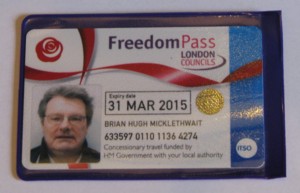 That thing gives me, at no charge whatever, the run of the entire London Underground network, plus all buses in the same approximate area, plus, if I understand things correctly, free travel on local buses throughout the UK.
I wouldn't like losing all that, not one bit. But I acknowledge that cuts like this will have to happen, if only to soften the blows a little for others who are being told that they must suffer far worse. Like losing their entire jobs for instance.
Can you, esteemed commenter, suggest other cuts, that you personally would be quite badly hurt by, but which you nevertheless think would be a good thing to do? Or, at least, a cut or cuts that would wound you personally, maybe far worse that losing my "Freedom Pass" would wound me, but which you would find it very hard to argue against? Maybe you have an entire job that you can't defend and are now ready to admit that you wouldn't have in a better governed country.
I wonder how Matthew Parris would answer this question.
Or Guy Herbert, whose posting immediately below I had not read when I posted this.