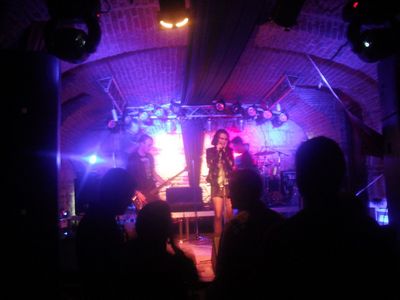 (1) A Cathay Pacific Flight between Hong Kong and Sydney – July 1987
Michael's mother: "I would like a Coke"
Michael "I would like a Coke, too
Flight attendant "Ah… Two".
(Three glasses of Coca-Cola arrive soon afterwards).
(2) An expat bar in Maputo, Mozambique – February 2007.
Michael: "Two-Em", please. Michael points to a beer tap marked "2M". Of course, the name of the beer is actually pronounced "Dos-Em", this being a Portuguese speaking country. The number "Two" is understood, as English is probably the predominant language spoken by expats in Maputo, which is unsurprising given the nature of the world and the proximity to South Africa. However, the beer is named "Dos-Em". That is different.
Two beers are thus placed in front of Michael. He smiles, and hands over a large enough banknote to pay for both of them.
(3) A (literally) underground music club, Cluj-Napoca, Romania – December 2009.
A heavy metal band has been followed by a slightly less heavy metal guitar band with a (good) female lead singer. This is definitely Dale Amon's sort of place. Michael is sitting at a table. He is approached by a waitress.
Michael: "Timisoreana, thanks". Timisoreana is a beer from the beautiful city of Timisoara, perhaps a hundred klicks away, but the beer is widely available throughout Transylvania.
Waitress: "Da". Romanian is a Romance Language, but contains a lot of vocabulary from the Slavic languages, including the word for yes. Given the history and ethnic composition of the country, it probably contains a fair few Germanic and Finno-Uguric words too, but I am not expert enough to know for sure. Michael sits for about two minutes. Another waitress approaches. She says something in Romanian, which Michael does not understand but undoubtedly translates as "What can I get you?"
Michael: "I have already been served by somebody else"
Waitress: "Ah, Ursus". Ursus is a beer produced locally in the city of Cluj Napoca, which (like Timisoreana, and for that matter 2M) belongs to the giant multinational brewing leviathan SAB Miller. The brewery does a rather good dark beer, too. The German ethnic minority have left their mark on this part of Europe. Michael waits another two minutes. Two waitresses return, more or less simultaneously, one with a Timosoreana, and the other with an Ursus. They look at one another in slight confusion. Michael smiles as broadly as possible – not generally difficult when faced with young Romanian women – pays a ridiculously small sum of money to each of them, and finds himself with two beers.
This sort of thing might happen slightly less frequently if I were not a monolingual Anglophone. Or perhaps not. And if it did, I am not sure if it would make things more or less fun. But I love traveling, and one of the most important principles of my kind of traveling is that it is important to have mastered the ancient Confucian principle of going with the flow.
And the problem of having accidentally purchased two beers instead of one is generally a relatively easy one to deal with.