The BigBrotherWatch campaign has a rather neat idea for a networked protest against the bully state, designed to encourage people to notice how much of it has insinuated itself into everyday life.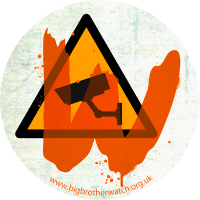 You put a standard sticker on some physical evidence of intrusion, threat, surveillance, overregulation, nannying… by or authorised by, an official body. You photograph it. You send in the photograph to them and/or publish it by other means… and that's it. There's a running competition for the best pics.
It is a smart use of the networked world to do something that is not quite the direct action loved by old-fashioned activists, but more directive action, to get the public's attention on the world around us and how needlessly oppressive it has become. And it is a game, too.
Alex Deane of BBW tells me he has already had hundreds of requests for stickers, and some very serious and respectable think-tankies appeared to be taking them at a meeting I attended last night.
I wonder whether anyone will manage to tag an FIT unit?