Dr Muhammad Abdul Bari, head of the Muslim Council of Britain, has given an interview to the Telegraph which neatly puts on display the vast cultural gulf and complete lack of understanding on the Muslim side when they discuss how Muslim and Western cultures can learn from each other. Dr. Bari says…
"Terrorists are terrorists, they may use religion but we shouldn't say Muslim terrorists, it stigmatises the whole community. We never called the IRA Catholic terrorists."
The various global franchisees of Al Qaeda do the things they do precisely because of their interpretation of the values and imperatives of Islam. They are motivated 99% by religion and therefore they can only be correctly described as Muslim or Islamic terrorists. Describing them as 'Asian' as the BBC often does (as in "two Asian men were arrested today and held under the Prevention of Terrorism Act…") is a grotesque bit of racism, because their race and ethnicity is utterly irrelevant to why they were arrested. They were arrested because they are suspected Muslim terrorists, not Asian terrorists.
The IRA on the other hand was a secular Marxist Irish nationalist paramilitary organisation that just happened to be drawn from the Catholic community. What they were not doing was trying impose Catholicism on anyone. They were trying to end British sovereignty in Ulster and make Ulster part of the Irish Republic, hence they were called 'Republican' terrorists…Being a Catholic but supporting the Union still made you an enemy of the IRA, as many people found to their cost. This is also why opposing paramilitary outfits like the UDA were usually called 'Loyalists' paramilitaries rather than 'Protestant'. If anyone seriously thinks the Troubles in Ireland were a religious conflict, they have clearly not been paying attention. That Dr. Bari did not bother to figure this out suggests to me that like so many of his ilk, he cannot see the world through anything other than the distorting lens of religion.
Sir Salman Rushdie should never have been knighted, he says. "He caused a huge amount of distress and discordance with his book, it should have been pulped."
The 'Satanic Verses' should have been pulped by whom? I assume Dr. Bari means the State, in order to prevent 'distress and discordance'. So if a large number of non-Muslim British people find the Koran causes them "distress and discordance", as well it might, is Dr. Bari really wise to want the State to take upon itself the role of pulping books in order to sooth people's distress and prevent discord?
According to a recent report by the Policy Exchange think-tank, the bookshop at the east London Mosque, which Dr Bari chairs, stocks extremist literature.

"The bookshops are independent businesses," he says. "We can't just go in and tell them what to sell … I will see what books they keep, if they have one book which looks like it is inciting hatred, do they have counter books on the same shelf?"
So he wants Rushdie's book pulped but is quite sanguine about Islamic books calling for violence and hatred just so long as contrary Islamic views are also available. All animals are equal but some are more equal than others, eh Dr. Bari?
He says we should look favourably upon arranged marriages and learn from Islam by become less overtly sexual and more modest. Why exactly? I met many Bosnian 'Muslims' who had learned quite the opposite lesson and saw no reason not to wear miniskirts and enjoy their sexuality rather than becoming psycho-sexual cripples.
But when I read this bit, it became clear to me that Dr. Bari was not merely well meaning but wrong:
Is stoning ever justified? "It depends what sort of stoning and what circumstances," he replies. "When our prophet talked about stoning for adultery he said there should be four [witnesses] – in realistic terms that's impossible. It's a metaphor for disapproval."
I see…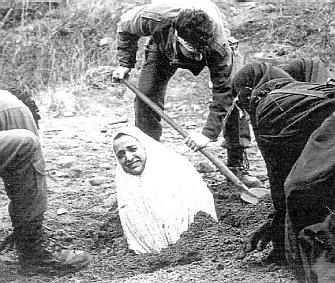 Don't worry, dear, what we are about to do to you is just a metaphor
It is pictures like that which fill my mind with homicidal rage. The Muslims depicted partially burying this Muslim woman, in preparation for her being stoned to death in accordance with the Koran, all deserve nothing less than a bullet in their brains, to be put down like rabid dogs. And when I hear people like Dr. Bari describing this practice as a "metaphor for disapproval" rather than a method of theocratic execution, my feelings towards him move from mere disagreement into transcendent loathing. Take a moment and really look at that fucking picture because that actually is how it is done: the victim is partially buried and then battered to death by having rocks thrown or dumped on them. According to Dr. Bari, if there were four witnesses, that is perfectly okay then. Try getting your head around that.
And so when a man who cannot bring himself to unequivocally condemn such barbarity tells us that we have anything whatsoever to learn from what he sees as Islam, it would be fair to say "I do not think so". As I discovered in Bosnia in the 1990's, being a Muslim and accepting the norms of western post-Enlightenment civilisation is entirely possible… 'Muslim' becomes more of an ethnic identity rather than a religious one, in which you just have to ignore large chunks of the Koran or 'interpret' them into something harmless (and face it, there are parts of the Old Testament most Christians prefer to gloss over too). The key is that the Bosnian Muslims became more and more secular (i.e. less religious), more western, the west did not become more like them.
That said I am sure you can be a practising Muslim and still embrace western modernity. I would be astounded if Tory MEP Syed Kamall, who is well and truly on the libertarian wing of his party, would have any problem whatsoever condemning stoning as a barbarous throwback regardless of how many witnesses there were to a woman's infidelity. People like Syed have simply grafted many of the best bits of the European enlightenment onto their religion and as a result made themselves wholly compatible with any pluralistic tolerant society. Is it still Islam? Well I am sure Syed would say it is and I have no reason to doubt him.
But sadly the Pakistani and Saudi flavour of Islam that Dr. Bari is part of have done nothing of the sort and show no signs they actually want to embrace modernity at all. Their notions of Islam, which is clearly the most evangelical version of the religion, is a toxic political and philosophical creed that is simply incompatible with liberal modernity and Dr. Bari's equivocation about stoning people to death tells you everything you need to know about where he is coming from intellectually.