Three weeks ago it was a long weekend in the UK, and on Monday afternoon I therefore somehow found myself wandering fairly aimlessly around the centre of Szczecin in Poland. After contemplating for a little while that one of the major differences between communism in Poland and East Germany was that in Poland churches were rebuilt lovingly, whereas in East Germany they were dynamited for ideological reasons, and just thinking about how many ghosts there are in sites of ferocious battles between the Wehrmacht and the Red army, I found myself staring at these advertisements on a wall.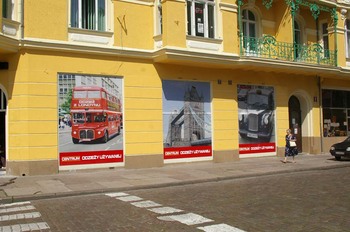 Not speaking Polish myself, I was entirely baffled by what this was saying or why, other than whatever it was having a certain amount of latent Anglophilia in it. Therefore I just took the photo and walked on.
Last night, while having a few beers in a pleasant London bar with a fellow Samizdatista, I took the opportunity of asking a Polish waitress what it meant. She looked at it for a moment, paused, and said "That is very weird…… They sell vintage clothing….weird", poured my beer into my glass, and walked off.
In truth that only enhanced the mystery. Further questions arise. What exactly does it say on the front of the bus? Do the proprieters of this business use mod fashion to express the essense of London's street fraternity culture? I need to know Perhaps the readership can help?.