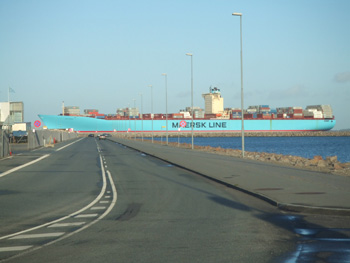 It is presently 2.42 am in Seoul. I am suffering from jetlag (Making an eastern journey with a nine hour time difference is especially brutal). I went to bed at about 6pm yesterday evening, and I have therefore just woken up, and I have a few hours to while away, . Buying an international power adaptor in the largest electronics market in Asia did not turn out to be particularly difficult, so thankfully I do not have to ration electrons this morning and I have my laptop and the internet. This makes lying awake in a foreign city with jetlag somewhat more bearable than it has been at some times in the past, and it makes the hour I spent making sure that the versions of my music and photo libraries, my e-mail archive, and various other things that are stored on my laptop were fully up to date were well worth it.
In a way, though, this is kind of relaxing. I have no other obligations for the next few hours. The last few months have been extraordinarily hectic for me. My team at work has been seriously understaffed (we have had great difficulty hiring good people), it has been bonus season, and the total workload has risen. I have been working ridiculous hours, and things like blogging have been lost in the rush. Suddenly, though, I am on holiday, and due to the absence of any GSM mobile phone networks in Korea my mobile phone and Blackberry suddenly don't work, so my colleagues do not know how to contact me even if they wanted to. I am out of touch and have no immediate obligations to anybody, particularly when jetlagged early on a Sunday morning.
However, I do have an obligation to the people of Samizdata. I am yet to explain why I was in Denmark on November 11.
The reason is actually fairly simple. I went to see Emma Maersk, the largest container ship in the world, at the end of its first trip from Europe to Asia and back. After being built in the shipyards of the Danish city of Odense and being christened on August 12, the ship had sailed from its home port of Aarhus to Gothenburg, Bremerhaven, Rotterdam, Algeciras, the Suez Canal, Singapore, Yantian (Shenzhen), Kobe, Nagoya, Yokohama, Yantian, Hong Kong, Tanjung Pelepas, the Suez Canal, Felixstowe, Rotterdam, Bremerhaven and Gothenburg, and was scheduled to arrive back in Aarhus at 1pm on November 11. Upon reading about the ship in various places, I thought it would be nice to go and actually look at her. I could have gone to see her in Felixstowe in Suffolk on November 4, but that was a weekday. In any event, low cost air travel in Europe has reached the point where it is no harder or more expensive to go to Aarhus than it is to go to Felixstowe, so I thought "what the heck" and spent about $60 on a return plane ticket.
After getting to Aarhus, and a semi-leisurely half hour in a coffee house, I headed down to the port. The AP Moller terminal was on the far side of the port, and I knew I would have a lovely view of the ship across the harbour if she were in the berth closest to the harbour entrance. If she was to dock at a berth further up the port, there would be other terminals in the way. But in any event, I would have a nice view as she sailed into the harbour. I might have to wait in the cold for an hour or so, but I would at least see her come in, which was why I was in port.
However, I was thoroughly confused when I walked to the harbour and saw this.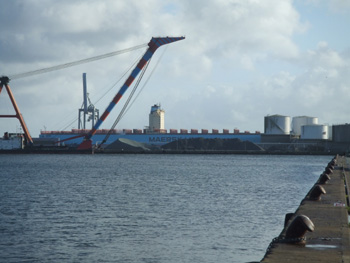 Yes, it was a big container ship in Maersk livery that looked exactly like the pictures of the Emma Maersk I had seen in photographs, but it was there prior to the scheduled arrival time, and it was not carrying a large load of containers, as one would expect if it had just sailed in from China. I knew that Maersk were building more ships in the same class, but I had not realised that any were completed. So I spent the next couple of hours wondering whether Emma Maersk had arrived early and had been rapidly unloaded (but container ships like this are never completely unloaded), whether I was confusing a smaller ship in a different class with Emma Maersk, or whether a new ship had arrived in port prior to its maiden voyage. Only one of these explanations made consistent sense, but I did not want to miss seeing what I had come for, regardless of explanations and sense.
In any event, the view was not very good. I needed to walk around the harbour to get a better view, at least to the extent that I was permitted to. (People tend to sometimes get nervous these days when you wander around and take photographs of critical infrastructure). And I wasn't sure where the roads went, and stuff like that. However, I gradually made my way around the port, towards the outer breakwater and the AP Moller terminal.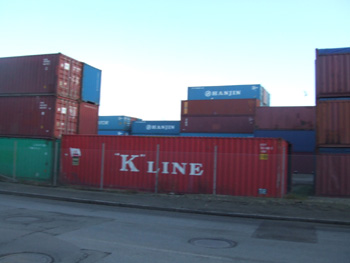 Didn't I see you in Tallinn?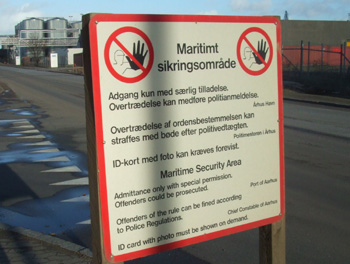 I do like the observation that I could be prosecuted. Presumably, after they figured out I was a banker/blogger/ship spotter/Danish cheese fan/beer drinker, I would not have been prosecuted, but it was in truth a good thing that I turned around and left the Secure Maritime Area, because I would not have otherwise reached the outer breakwater in time
When I got there, I now had a much better view of the AP Moller terminal, the ship already in port, and the open sea. And look what was sailing towards port?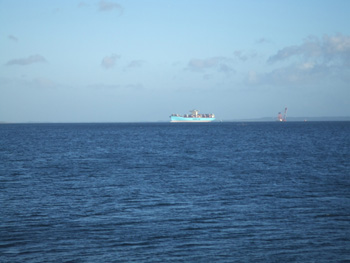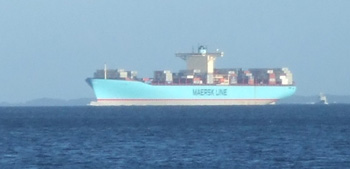 Clearly, this was Emma Maersk. When I got closer to the other ship, I was able to see the name painted on the side, which was "Estelle Maersk".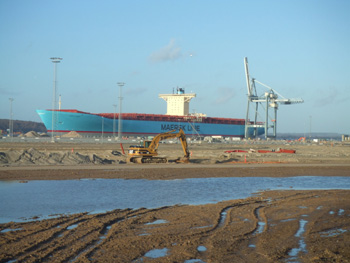 She is a sister ship of Emma Maersk, and I later discovered that she was in Aarhus resolving a little propeller trouble prior to her maiden voyage. But for the moment my attention was elsewhere. A race was on. I was at the opposite end of the port to where Emma Maersk was heading. I wanted to get the best possible view as she sailed (or, in fact, was towed) in.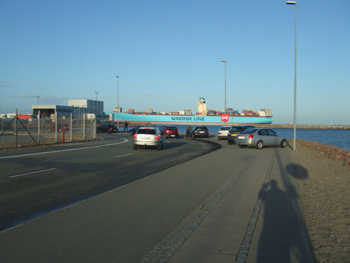 And what is interesting about this last photograph? Well, look at all the cars parked down at the end. The ship spotters of Denmark were out in force to see this magnificent ship sail into port.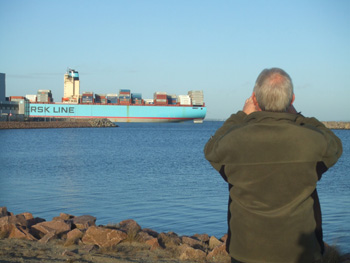 Actually, looking at people moving around in the AP Moller terminal itself was interesting. The arrival of the Emma Maersk was clearly a big event. People came outside to watch. There was a little viewing deck on top of one of the buildings, and this was crowded. Watching a ship likle this was not yet routine, and this was splendid, because we should never forget how remarkable are many of the things of the modern world.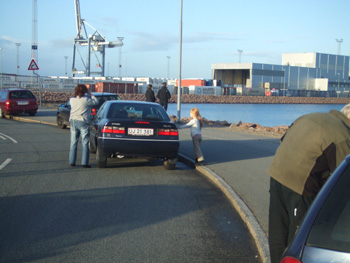 I have to admit I have a lot of respect for people who take their small children to look at container ships.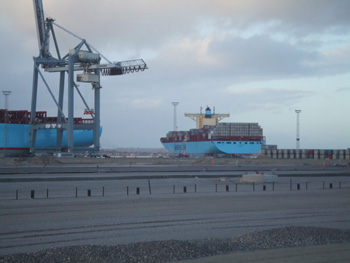 And we have the two largest ships in the world in port side by side. I suspect that does not often happen, and I had some luck. In fact, I had a lot of luck, for I would have seen a lot less if Emma Maersk had not ultimately been two hours late into port.
As it was, though, it was cold, and I was very tired. I needed beer. I walked out of the port, found a fine Danish pub, and had a couple of half litre glasses of Tuborg. I did also want to look at Emma Maersk from the other side of the harbour, and to watch her being unloaded, but I did need rest, which took time. I got there in the end, but by that time there was not much light, and people can argue about the artistic merit of the resulting photograph.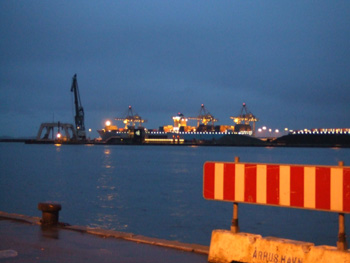 I actually have a lot more to write on this subject. I want to use a discussion of the Emma Maersk as a context to attack the anti-globalist protectionism of the Guardian, and to discuss the economics of container shipping more generally. However, I think this post has gone on for long enough. It is now just after 6am, and it is time to go and seek some breakfast. I will get part 2 finished sometime between now and Christmas.