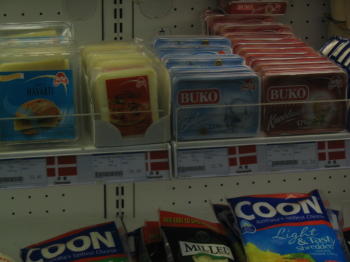 Commenters in my last post have asked me exactly what I was talking about when I stated that I found many "Danish cheeses that would be illegal in Europe" in a Chinese supermarket. Although it is actually possible to figure out what I was talking about from a careful study of the top photograph and perusal of Samizdata's fine archives I shall, none the less, explain myself. In truth, I was being slightly misleading.
The European Union has in recent years adopted laws (based on earlier French laws) adopted "Protected Designation of Origin" and "Protected Geographical Origin" laws concerning the names of foodstuffs, which state essentially that if a food product is supposedly characteristic of a certain place of origin, then the particular name of that foodstuff can only be used on products made in that place, and usually also made in a particular way (subject to vast books of regulations) in that particular place. Sometimes that product name is the name of the place (eg Edam cheese must come from Edam in the Netherlands), and sometimes it is not("Camembert" cheese must come from Normandy). Nobody seriously objects to laws that make the origins of products clear, and make it illegal to genuinely attempt to deceive about where a product came from, but these laws are notable for their overreach. In many cases, the attempt has been made to regain control over names which became generic decades or centuries ago, and it has also become illegal to use these names desciptively in any sense. (You cannot say "This cheese resembles camembert" or even "This cheese does not resemble camemert" on the label). Ultimately this has ended all about being protectionist with respect to small numbers of producers.
Having adopted these laws inside the EU, the European Union's agriculture directorate (sometimes also known as "The French") has attempted in trade negotiations to have similar laws enacted internationally, using the argument that "We are good citizens within the EU and respect these laws and the rights of producers (blah blah blah), and therefore they should be respected internationally too. Their attempts to have such laws adopted within the WTO have largely involved their being told to get stuffed, principally by the Americans, but they have had some success in bilateral negotiations with smaller countries (eg Australia) that want to trade with the EU in agricultural products.
However, there has been a split between northern and southern Europe on this. A large number of these PDOs and PGOs have been adopted in southern Europe (particularly France and Italy) but there has been much more reluctance to adopt them in northern Europe, where farmers and producers have been reluctant to accept the large amount of regulations that has come with them. For instance, the producers of stilton cheese considerd participating, but ultimately decided that protecting the word "stilton" would reduce the flexibility of their businesses sufficiently that it was not worth doing so, although they did actually (and somewhat idiotically) adopt "Blue Stilton" and "White Stilton" as protected phrases. In the "screwups" department, the producers of Newcastle Brown Ale did apply to have the name protected, and then discovered that it was technically illegal to use the name "Newcastle Brown Ale" for beer brewed in their new brewery across the river in Gateshead.
None the less, northern European countries have (with a bit of grumbling) gone along with these laws, and products on supermarket shelves have been relabeled.
But, as I discovered in China last week, they only do what they have to. For the export market and setting a good example for the rest of the world so that other people will stop using the names of our cheeses, the Danes clearly don't care at all.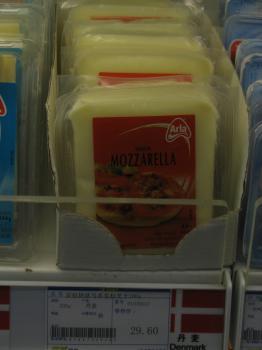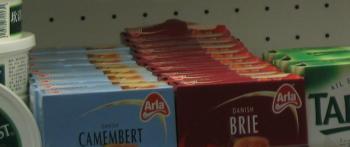 (Actually, I am not sure the word "brie" is protected, but "mozzarella" and "camembert" definitely are. And "havarti" is not protected either, but since it was a Danish cheese in the first place, I suspect that was up to them). There is clearly no attempt to pretend that these are French or Italian cheeses though. The number of instances of the word "Danish" (and the number of Danish flags on the shelf) makes it clear that the opposite is the case. The fact that the cheeses are Danish is being played up, not down.
So, in some sense I lied slightly. It isn't so much the cheeses that are banned in Europe, but the combination of the cheeses and the names that are banned in Europe. While those Danish cheeses can technically be sold in Europe, those combinations of cheese and packaging cannot. In practice though, one does not see those kinds of Danish cheeses on British supermarket shelves. The difficulties in explaining what they actually are under the protected names law is such that it makes them hard to export to Britain and then sell, and we end up buying French and Italian cheeses instead. Which is, of course, the point.
For genuine instances of banned cheeses, one must generally cross the Atlantic. The FDA in the United States bans the sale of all cheeses made with unpasteurised milk, on the basis that these are slightly more likely to carry certain diseases than are cheeses made with pasteurised milk. As it happens, cheese afficionados think that using pasteurised milk ruins the taste of some of the very best cheeses. (i think they are right). And is in reality eating unpasteurised cheese is probably less risky than crossing the road, American cheese fans want to eat these cheeses. Which is why there is an illegal cheese smuggling business (and a black market in illegal cheeses) between Europe (mostly France) and the United States. I kid you not.
Back to the Danish cheeses, I was curious as to what the French supermarket chain Carrefour would do with them, both from the point of view of Carrefour's recent indiscretions concerning Danish products, and the European origin laws, given that Carrefour is French. My suspicion is that they would have simply sold them to people who wanted to buy them, but alas I didn't find out. Although Carrefour apparently has several stores in Shanghai, I didn't manage to find one. I tried, but I accidentally got on the wrong bus. After the bus I did get on unexpectedly got on a motorway, I found myself ultimately eating barbecued meat on skewers with Mongolians in some rather remote corner of Shanghai. But that is another story.