Instapundit Glenn Reynolds has been out promoting his new book. In order to demonstrate how well connected to the world ordinary people now are, how much choice they have, and much information they have easy and inexpensive access to, he has repeatedly brought up the example of the bar he likes to work " with 27 kinds of beer on tap, a nice patio and… a free wireless Internet hookup,"
It sounds reasonably good.
As it happens though, Jonathan Pearce and I went to Porto in Portugal last weekend in order to get pissed have a stimulating weekend. On saturday night, we ended up in a bar with a choice of over 200 kinds of port. There was something work related that I had to get done reasonably promptly, so I got out of my laptop and joy of joys, the bar was providing free wireless there too. I was able to get my work done. It certainly beat spending time in the office. It beat a mere 27 kinds of beer too.
So what can I say? Samizdata 200 – Instapundit 27. We win.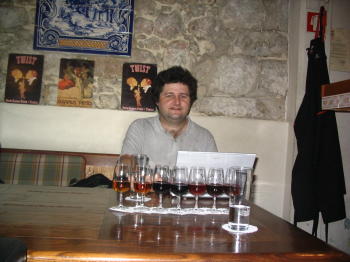 For what it's worth, in front of me I have a dry white port, a fruitier white port, a reserve, an unfiltered L.B.V, two tawnies, and a 21 year old colheita. (The colheita in particular was just divine).