I have been in the habit of buying zone 1 (i.e. very central London) tube (i.e. London Underground railway) tickets, in clutches of ten, for a reduced price, compared to what such tickets would cost if you bought them one at a time. I tried again, a few days ago, but it seems that as of January 1st 2006, the only way to get cheaper tube travel is to buy an Oyster Card. Oh no, please no, I said, you'll make me fill in a ludicrously complicated form. No, they said, just buy an Oyster Card. What just buy it? No name, no address, no grandmother's maiden name. Yes, just buy it, and put some money on it. Okay then.
A day or two ago, I was out and about, and had forgotten how much money I had left on my Oyster Card, and saw a machine which looked as if it might tell me, if I put my Oyster Card on the sign, like the one you use when you are passing through a ticket barrier. It duly told me how much cash I had left, and it also gave me the option of learning about my 'card usage'. I pressed that. And this is what I got (click to get it bigger):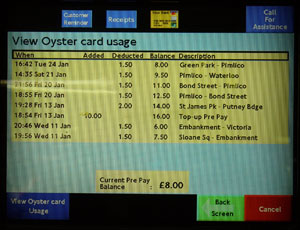 The message is loud and clear. We know where you have been, and when, and we want you to know it. Because, combine all that with surveillance camera info, and they can tell at once who you are.
The times we now live in.
How long before not wanting to buy an Oyster Card is itself regarded as cause for suspicion?