How quickly this (click on this picture to make the triumph even bigger!) . . .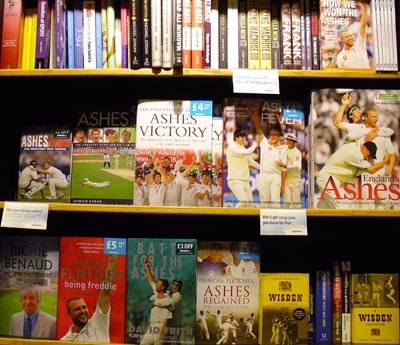 . . . has turned into this: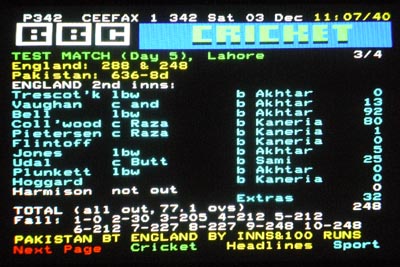 After England sneaked the Ashes 2-1, they have now been soundly beaten 2-0 by Pakistan. Ashes to ashes, dust to dust. If Warne don't get you then Shoaib Akhtar and Danish Kaneria must. I wonder what Al Qaeda will make of that.
All very catastrophic. Until you turn your mind to a real catastrophe. To put all of the above in perspective, spare a thought for cricket in Zimbabwe, a grain of sand through which to see the chaos of the world out there. A year or two ago, there was a great exodus of international cricketers from Zimbabwe, but they were mostly white guys, with only the occasional black man involved. The Mugabe regime had no problem calling them a bunch of racists and Uncle Toms.
But just over a week ago, the new Zimbabwe captain, the impeccably black Tatenda Taibu, and a thoroughly gutsy cricketer by the way, having already expressed his extreme displeasure at what was happening to Zimbabwean cricket, and having lead another huge player rebellion, by the new multi-coloured lot, remember, resigned:
"I've resigned from Zimbabwe cricket as a whole," Taibu said from Harare on Thursday.

"I've had problems with the way Zimbabwe cricket is being run for the past few years," said the 22-year-old, the youngest captain in Test cricket history when he took over in May 2004.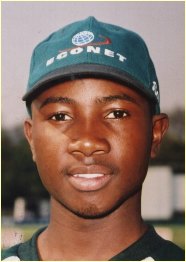 Maybe that was what decided that Mugabe regime that something had to be done. Basically, a couple of Mugabe-ites had been given Zimbabwe cricket to "run", i.e. ruin, loot, etc., and the Mugabe regime (i.e. Robert bloody Mugabe) decided that they had to stop, or would at any rate make good scapegoats for what even they (Mugabe) now saw as a problem. So, the Zimbabwe equivalent of the men in big raincoats went round at 4 am to arrest the two miscreants. But, they had been tipped off and had fled.
Cricket people are complaining about the uselessness of cricket's global governing body, the ICC, in this matter. But you cannot really expect the ICC to sort out Zimbabwe cricket. The problem is not cricket in Zimbabwe, the problem is Zimbabwe.
Nevertheless, cricket, by dramatising so publicly the horror story that is Zimbabwe now, may actually be contributing something:
John Stremlau, professor of international affairs at South Africa's Witwatersrand University, said the Zimbabwe Cricket meltdown could become the catalyst for a much broader internal revolt.

"Inflation is more than 400 per cent, the US dollar to the Zim [Zimbabwe dollar] is running at 1 to 100,000 [on the black market] and everything's been criminalised and linked to the survival of the Zimbabwe cabal," he said.

"The mystery is when the tipping point will come and it'd be an interesting footnote to history if it was the flap over the cricket team."
Yes it would. The sooner Mugabe is tipped, alive or dead, into the bucket of history the better, and nobody is going to be particularly choosy about what tipped him. If cricket can help to see off this monster, good for cricket.
If that happens, then maybe the apparently myopic policy of other cricketing countries just carrying on playing with whatever cricketers Zimbabwe put into the field against them will have been justified, sort of. Results are what matter when you are dealing with something like Mugabe, not your mere conscience. Had cricket quarantined itself from Zimbabwe, this latest fiasco could not have happened, because any cricket problems in Zimbabwe would (a) not have attracted nearly so much outside attention, and (b) would have been blameable by Mugabe on outside interference.
Had Taibu not had the chance to prove himself to be the formidable cricketer and personality that he is, his resignation would not have counted for much. As it is, it just might count, as Professor Stremlau says, for rather a lot.