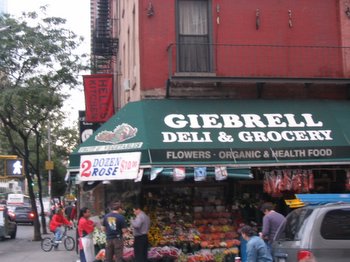 I am in New York. I try to visit this great city every now and then, although as it happens I have not been here since 2000. Besides the fact that the skyline of this city has been defiled since then, it is still the same place, although it seems to get richer and cleaner every time I visit.
My first trip here was in 1991. I was 22 years old at the time, and before I went I remember my mother being slightly scared for me. At that point New York had a reputation for being a somewhat rough and dangerous place. It had perhaps deserved that reputation in the 1970s, but by 1991 it was not especially fair. When I walked the streets of Manhattan I quickly discovered that New York was a fabulous city, but my first experience was an odd one. I arrived at Newark Airport, collected my luggage and headed for the bus stop outside. However, my progress was impeded by the fact that the dead body of a large black man was lying in a pool of blood at the bottom of one of the escalators. There were policemen standing nearby, preventing other people from coming too close.
I do not know how this man died. My best guess is that he simply fell while on the escalator and hit his head. Howevever, my mind was filled with visions of airport shootouts. The thought "What is this place, and what the fuck am I doing here?" went through my mind. I cowered a little.
I then got the bus into Manhattan, found the hostel where I was staying, and had a great time. The city was a litttle grimy, and there were one or two rough neighbourhoods, but it was in truth a magnificent place.
Since then the city has got a lot richer and more gentrified, and (at least in Manhattan) the rough neighborhoods do not seem quite so rough as before. On Saturday I wandered into Hell's Kitchen, famous for being a tough location, recorded in bad movies such as this one.
But of course its proximity to the important locations of midtown means that a certain amount of gentrification may have taken place. That or the long time residents have taken a liking for politically correct lettuce leaves.
Having roughed such a dangerous place, I retired to a nearby restaurant, where I had some Provencale food washed down with an excellent premier cru Burgundy. (Although the food was excellent, the restaurant felt nothing like France. Everything about it was obviously New York, from the size of the portions to the accents to the volume of the diners to the decor). Okay, at that point I got the "kitchen" part. Hell was still eluding me.
If you go a long way uptown, then yes, some places are not quite as gentrified as this. But they are perfectly fine, and in terms of safety New York feels these days more like Tokyo than the dangerous, feared place that people in foreign countries had heard terrible stories about during my childhood.