I have long defended an American corporation, much hated by anti-globalisation types, greens, leftists, even many conservatives. While many seem to think that the mission of said corporation is to destroy all that is good in the world and to act as a back door through which America can destroy local colour and local traditions, I have found it hard to fault a company that sells hamburgers to people who voluntarily choose to consume them, that has introduced the concept of the public toilet to many parts of the world where the idea was lacking, and generally provides excellent customer service to go with its slightly questionable food. I have found it hard to see anything sinister in that.
But alas, in the Praça da Liberdade in Porto on Saturday, I discovered that those brave battlers against corporate domination of the world were right. For the era of concealment is over. McDonald's restaurants are now established in most of the world, and they can finally allow their true ambitions and the true scope of their mission to become clear. The time for hiding is now, clearly, over.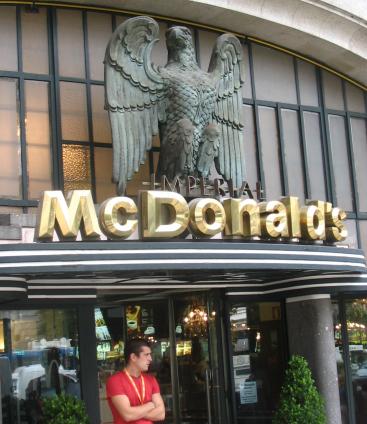 I will confess that despite their obvious sinister ambitions, I quite like the new logo.