I like to interrupt TV coverage of test cricket with CEEFAX news of about other cricket matches, and this afternoon the news trickled through that England were (probably) winning – and then that they had finally won – the Ashes!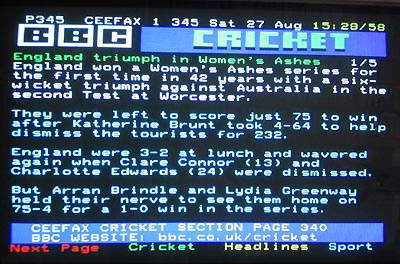 The ladies of Australia have had the same armlock on the Female Ashes as their menfolk have had on the Male Ashes in recent years, only more so. But today the English ladies beat the Australian ladies by 6 wickets to clinch a series win. With luck, England will get the Male Ashes back this summer as well. The men of Australia followed on today at Trent Bridge, and the men of England are well placed to get a win tomorrow and go one up with one to play in their series. Here's to us limeys making it a double.
I wonder if a lady will ever play international cricket for her men's team, so to speak. Cricket is not a game that is wholly conditional on brawn, although you do have to be fit, of course. Some of the greatest ever batsmen, like Bradman, Gavaskar and Tendulkar to name but three, have been quite small men. And bowlers, even quick ones, do not have to be giants either. And great slow bowlers can be quite small, and even physically handicapped. So, even if a female physique may be a handicap, it may one day be overcome.
Meanwhile the usual low-level politico-sporting storm rumbles and bumbles along about whether Civilisation ought, still, to be playing cricket games against Zimbabwe. At one time I was in the habit of making a bit of a fuss about such games here, because it was a way to make a fuss about Zimbabwe. But all the world that cares now knows that Robert Mugabe is ruining that unhappy country and the only question is whether someone can end his life and/or despotic reign before natural causes finally oblige. Other African rulers do not want anything done, because this might set a dangerous precedent. I mean, what kind of place would Africa become if merely being a thieving and destructive monster meant that you lost your job as tyrant? Very different, that is for damn sure. And since the rest of the world is disinclined to revive White Imperialism and barge in and rearrange matters without lots of local consent – the only new imperialists in Africa these days are the Chinese, and they are there for the minerals, not to take up the Yellow Man's Burden – it really does not matter what the cricketers do about Zimbabwe. Playing against the current politically deranged Zimbabwe team and thrashing it probably does just as much good (and just as little) as refusing to play against it.