Harry Phibbs is one of those people who is not nearly as much of an ass as he often pretends to be. In fact, often pretending to be an ass is just about the only assinine thing about him.
Here he is, pictured at that Globalization Institute launch that everyone who was anyone was at, talking about I have no idea who, but almost certainly saying that they ought to be horsewhipped.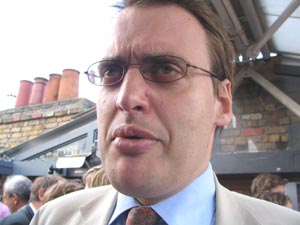 But he is and has long been an excellent writer. Here is his excellent description, at the SAU blog, of what it is like being a school governor (while remaining Harry Phibbs of course). I particularly liked this bit of reminiscence:
School governors are entitled, indeed encouraged, to visit the school once a term or so. They also have a chance to report on their visit. I once caused consternation at a primary school in St John's Wood where I was a governor a few years ago. Reporting on a visit I had made to the school, I named a Bosnian child who had recently arrived at the school. He was unable to speak English but was very good at sums. Essentially his entire time at school was being wasted. For most lessons he stared blankly unable to understand what was going on. In the maths lesson however he managed to correctly complete a whole sheet of sums within seconds which kept the rest of the class going for the whole lesson. Of course he should have been given harder sums and special help to learn English. "We are letting him down", I declared. Later it was proposed by one of the teachers that reports of governor's visits should be restricted to general comments as it was "inappropriate" to make comments which should be made by school inspectors.

But I was backed up by the other governors who agreed there was little point in having school visits if specific criticisms could not be made. I never found out if the boy was given harder sums to add up.
Harry also writes about the beneficial effects of Jamie Oliver on school meals, and gives chapter and verse of how much money is spent on each pupil, and who by. (Clue: bureaucracy.)
Read, as we bloggers so often say, the whole thing.