Today I went for a wander around Camden in London, visiting Camden Market, Camden Lock and The Stables, contiguous areas filled to overflowing with small shops and open air stalls selling exotic Goth clothing, lampshades made out of old computer motherboards, Tibetan jackets, New Age crystals, Latex fetishware, fur-lined handcuffs, AC Milan supporters posters, weird furniture made out of tree stumps, flashing clothes with fibreoptic weaving, magic mushrooms to go, bongs, 'No one knows I'm a Lesbian!' tee-shirts, and food from West Africa, Morocco, Japan, Indonesia, Lebanon, Korea, Venezuela, France, Italy, China, Jamaica, Thailand, Holland, Scotland and even England.
The political content was endless racks of tee-shirts emblazoned with Che Guevara, Bush=Hitler and McShit Hamburger logos and stands owned the Socialist Worker's Party and various other fringe folk manned by quixotic and very earnest folks handing out "Bush is the biggest terrorist!" posters.
Now my guess is that 75% of the people who thronged around Camden (the crowds were dense over a very large area indeed) are more or less completely indifferent to those particular the messages and certainly 95% of the stalls and shops were not selling politically oriented things at all. Yet what was available was entirely of the left and almost all of it was either Communist (Che Guevara's image was widely seen) and/or anti-American.
Right in the centre of the large shopping area called The Stables is a Cuban Restaurant called rather unambiguously The Cuban. Giving it the benefit of the doubt, I stuck my head inside as for all I knew the place was owned by some Cuban refugee who had fled Castro's communist dictatorship. But no. The first thing I see is a large image of Che Guevara. The outside of the building has a sign saying this place brings "The Spirit of Havana in the heart of Camden"…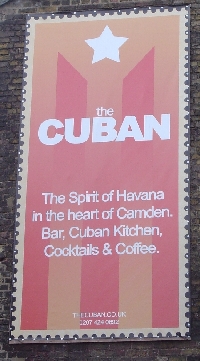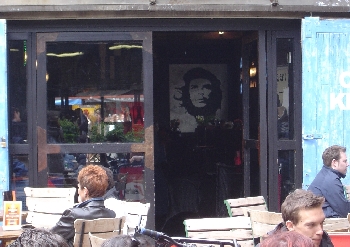 …which presumably means that criticizing the restaurant gets you dragged off to jail by uniformed thugs as that is truly the spirit of Havana.
Now if someone wants to portray a benign fantasy version of Cuba ("Castro chicken tenders!"), well that is entirely up to them. But the moment I see that Che image up on the walls, The Cuban takes a position on who 'the good guys' are and it becomes more than just a Cuban restaurant. Too harsh? Well imagine a German restaurant. Now put a picture of Himmler on the wall of that restaurant and suddenly the entire context of the place changes. I wonder how people would react to a Cambodian restaurant which offered a "Pol Pot Roast" or a "Killing Fields Kocktails!" whilst a smiling image of Pol Pot looked down on the gorging clientele. My goodness what fun that would be. Still, perhaps a closer examination of The Cuban's menu may reveal such dishes as "Jailed Journalist Jambalyah" or "Dead Dissident Daquiris" whereupon my views of the place would have to change somewhat. I have not looked but somehow I doubt it.
But it got me pondering. I wonder how many of the anti-globalisation activists who probably regard areas like Camden as 'home turf' and perhaps even eat at The Cuban realise how the area only looks the way it does because of the global movement of goods within a market economy. Do they seriously think that there is a place like Camden anywhere in Cuba? Do they think the new Age crystals, the fetish shops, the Goth gear purveyors, the mountain bike shops and, hell, even the clothes they wear, the mobile phones they all carry, the iPods they listen to, would all be available in a politically directed command economy? Please, show me such a place.
The thing is, their own lifestyles and environments are examples of the benefits of what they profess to reject. Quite funny really if you think about it.