A Guardian headline spotted today: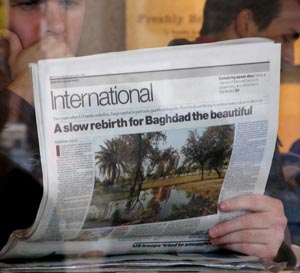 The complete story is here.
Basically, and especially in recent months, things are improving.
The story ends thus:
Six months ago Bradt Travel Guides published what was probably the first postwar guidebook for Baghdad. If you do not enjoy Iraq's capital, at least appreciate the residents, it said.

"They are a justifiably proud people, whose city was the capital of the world when London was an overgrown village and Columbus several centuries away from America.

"War has not destroyed this and western condescension is met with the scorn it deserves."
So, whatever happens, the West is still wrong. It would not be the Guardian if there was no defeat to snatch from the jaws of the victory they dreaded, but are now having to concede.