As has been mentioned, I am presently in southern China. At this precise moment, I am using WiFi in a Starbucks in central Shenzhen, just over the border from Hong Kong, recuperating from the heat and humidity outside, and taking an immense dose of caffeine to fight my jetlag.
The Pearl River delta is at this point in history the workshop of the world, particularly in terms of electronics manufacturing (although the goods with the high capital costs tend to still be made in Taiwan, Korea, and elsewhere). Much of the manufacturing tends these days to be done in places like Dongguang (a little further upstream) but Shenzhen is where you go if you want to buy the stuff.
I shall have a lot more to say on this (and lots and lots of photos) later. But for now, here is a picture of some graphics cards with really big fans that I took in a truly immense electronics market a few minutes ago.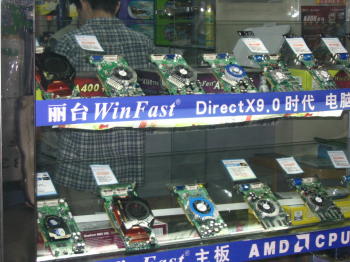 This will no doubt make Perry happy.