A week ago I hosted a meeting at my home, and took photos, a couple of which are, I now think on looking through them again, rather good.
This one, of Samizdatista Philip Chaston, shows him in full put-that-bloody-camera-away mode: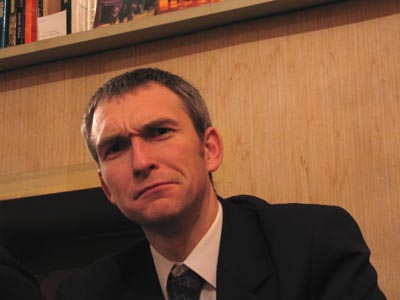 But I carried on snapping, and also got this rather nice pic, of the speaker that night, Patrick Crozier (left as we look) and of occasional Samizdata commenter on behalf of the Total Libertarian Correctness tendency, Paul Coulam (right – as always):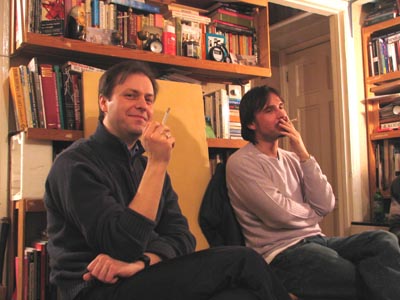 This photograph is my response to this, which, alas, was then getting into its evil stride.
Although, I recently, in a moment of disgusted introspection, found myself understanding where the mania to ban smoking comes from. A friend had asked, yet again, if I minded him smoking in my home. In truth I do mind, but tolerate it from friends. (Non-friends who smoke in my home disgust me.) So the answer is usually, as it was last Friday, okay go ahead. After all, if they want to smoke, I can either cross them off my friend list, or put up with it and stop moaning. Easy.
Well, no. What I would like would be some magic procedure which would stop them smoking, so that they could remain on my friend list without any reservations or difficulties or embarrassments or resentments.
The thing about laws is that they have little impact on criminals, but they can change the habits of the law abiding. So, if you want some of your friends to behave differently, the law can magically achieve what you alone cannot. I cannot make my smoking friends stop smoking. But the law can!
To which my answer, to myself, is: Get thee behind me Satan. I will not support legal coercion merely because it will solve a tricky little problem in my personal life. But to which, alas, the answer of many others is: We want our friends to stop smoking, but we cannot merely say that, and pass the law. So instead we must dress our tastes up in the language of care and concern, and jabber on about health hazards, and best of all about passive smoking.
The simple truth is that lots of non-smokers simply do not like it when smokers smoke in their vicinity, or worse, in their homes and workplaces. They do not like it. They want it stopped. Health, for many people is, if you will pardon the metaphor, a mere smokescreen. Personally, I do not give a damn what my friends are doing to their health. That really is their business and not mine at all. The smell of smoking in my flat, for several days afterwards, that is what I wish would go away.
No doubt there is some kind of spray on stuff that would help me, but you know how it is. That is just one more stupid thing to have to worry about. How much easier would it be if the law could just put a stop to it! (No! Satan! Go away I say.)
The serious point is: if I were to get my smoking ban, what would be next?
Digital photography perhaps? Such a ban would surely attract widespread support.