We curse and rage at the BBC here, a lot, but you have to admit that this is a great story.
Even Ghana's director of tourism may have to admit that Accra has its work cut out competing with other tourist destinations in Africa. Yet just outside the capital, is the suburb of Teshi and it is here that tourists are coming to look at a relatively new tradition – the fantasy coffin makers.
So how did this happen?
The story goes that in the first half of last century one Ata Owoo was well-known for making magnificent chairs to transport the village chief on poles or the shoulders of minions.

When Owoo had finished one particularly elaborate creation, an eagle, a neighbouring chief wanted one too, this time in the shape of a cocoa pod. A major crop in Ghana.

However, the chief next door died before the bean was finished and so it became his coffin.

Then in 1951, the grandmother of one of Owoo's apprentices died.

She had never been in an aeroplane, so he built her one for her funeral.

And a tradition was born.
The only bit of what might be BBC politically correct boringness that I could detect in this report came a few paragraphs before that last quote, where it said:
Many of their clients want to bury loved ones in something that reflects their trade.

Even if that means being buried in a Coca-Cola bottle.
Even? I suppose if you are the BBC, that is the ultimate horror. But, if being buried in an airplane or a car or a cockerel or a cocoa pod is okay, then what on earth is so wrong with being buried in a Coca-Cola bottle? (Not Diet Coke obviously. That would be stupid.)
Something tells me that in these post-Christian times, this might spread to other parts of the world. Our boring British death industry could certaionly do with a shake-up. What kind of giant object would you like to be buried it?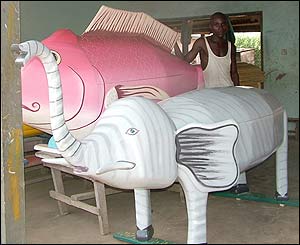 It is good to read some good news coming out of Africa. True, African people are dying, but they are mostly dying of natural causes and are going out in style.