On Saturday I found myself (as one does) in the "Freetown" of Christiana, an "alternative community" in Copenhagen in Denmark. An abandoned military barracks quite close to the centre of the city was inhabited by a large number of squatters in the early 1970s, and arfter decades of sometimes hostile, sometimes violent clashes between inhabitants and the authorities (often over drug use), the people of Christiana and the Danish authorities these days basically tolerate one another.
These days Christiana has become a major venue for such things as live music and other entertainment, and it contains an assortment of bars, cafes, art galleries, workshops selling a variety of craft goods, music related items, and a vast amount of cannabis also seems to be consumed in the area. Clearly the economy of Christiana is very largely funded by selling stuff to visiting people like me, but that is fine. (I am all in favour of people who want to sell stuff, and I am all for people being able to smoke or ingest anything they want). And like anywhere else, Christiana has a fair bit of municipal pride, with clearly demarcated signs indicating city limits.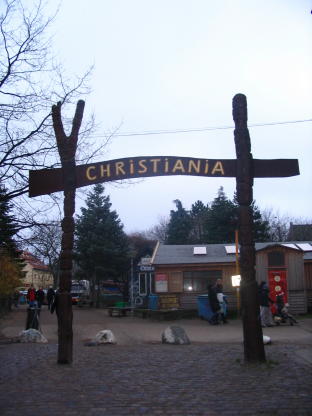 (It is actually relatively difficult to document this post with pictures, as photography is discouraged in all of Christiana, and is prohibited entirely in the entertainingly named Pusherstreet, partly because of the questionable legality of some of the things being sold, and partly I suspect because this is a way of preventing Christiana from degenerating completely into a tourist circus, which is always a danger).
But clearly the local promoters of certain iconic pop-cultural properties believe that nearby walls are a good place to advertise.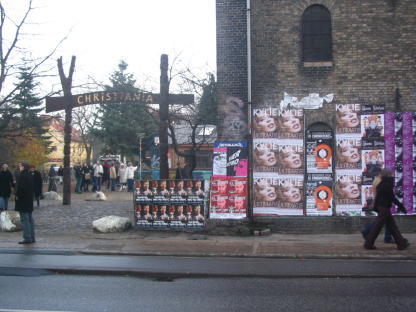 But in a cultural or pop-cultural sense, there are certain issues that are clearly in dispute. For one thing, quite a few of the buildings in Christiana have satellite dishes on their roofs. Despite this, there are clearly theological issues about whether television is a good thing or a bad thing, and as someone who these days watches little television other than the occasional cricket or football match, I did find this graffiti and counter-graffiti amusing.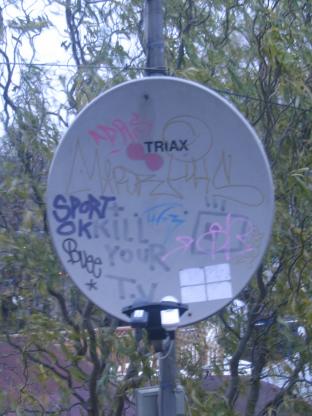 However. it was perhjaps most interesting to walk out of Christiana, and to look at the other side of that entry gate. Walking back into Copenhagen proper, I had my chance to Interesting though to see just which organisation the Freetown of Christiana most wants to be free of.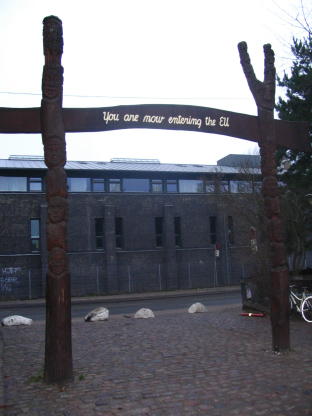 Fancy that.