Last night I attended a fascinating talk about the libertarian movement in Spain, hosted by Tim Evans in Putney, and given by Gabriel Calzada, who had been known to me before last night only as the author (maybe – I was unsure) of this essay.
The message Gabriel delivered to a small but very attentive group of London libertarians can be briefly summarised as follows: the Spanish libertarian movement is extraordinarily big and is doing extraordinarily well.
Gabriel started his talk with some history, concerning the Salamanca school of Natural Law theorists, mentioning the names of Francisco de Vitoria, Francisco de Suarez, and Juan de Mariana. Here is a famous Mariana quote:
Taxes are commonly a calamity for the people and a nightmare for the government. For the former they are always excessive; for the latter they are never enough, never too much.
But that was a very long time ago, and that kind of thing only influenced modern Spain indirectly, via its influence on the Austrian school.
It became very clear as the evening went on that the enormous Spanish anarchist movement that flourished about a century ago is crucial to any understanding of the current Spanish libertarian movement. Anarchism as a political force in Spain was eventually decapitated by the supposed allies of the anarchists, the Communists, for being insufficiently obedient to Stalin, but the climate of opinion – what we here at Samizdata call the meta-context – of anarchism lived on in Spain. Whereas the typical political question in other countries is something like: How shall we govern ourselves?, in Spain the question is: How shall we be free? How, as it were, do you do freedom? With a question like that, it makes sense that the libertarian answer to that question (one word summary: property) would attract a mountain of enthusiastic attention, and it has.
Perhaps another reason for the dramatic impact of libertarianism in Spain is that Spain has, until challenged by the libertarians, been intellectually dominated by Communism. Anarchism having been wiped out, and anti-Communism having become so tainted by Francoism, that left the lefties ruling the media roost in Spain, in the form of such mass media giants as El Pais, the biggest national newspaper in Spain, which makes the Guardian seem to Gabriel like a centrist/liberal kitten by comparison. Lots of libertarians are converts from leftism, and Spain is very full of people who have been raised in a leftist manner but who are looking for different answers.
It may also have helped the rise of libertarianism, although this was not mentioned by Gabriel or in discussion, that Spain is now economically so vibrant, compared to earlier times.
Gabriel, interestingly, preferred to focus on the achievements of two individuals: Jesus Huerta de Soto, and Federico Jimenez Losantos. Huerta is the key scholar, and Jimenez is a key media performer, and both are men of "contageous enthusiasm", a phrase Gabriel used several times.
He also mentioned the vital role that the Internet has played in this story. Again, summarising brutally, whereas the Communists owned the old media, the libertarians own the Internet, to the point where the Communists are getting seriously worried.
Gabriel mentioned two internet sites in particular, liberalismo.org (scholarship) and Libertad Digital (current affairs). Both have astronomical hit rates, of the order of a million a month (sorry but I am bad at numbers). When those Communists type any Spanish 'issue' into their search engines, time and time again, the first few hits are libertarian analyses. No wonder they are so anxious, and have been saying that something ought to be done about controlling the Internet.
Jimenez is also doing extraordinarily well on the radio.
I could attempt to go on, on the basis of my scribbled and inadequate notes, but I will leave it at that for now, hoping that Gabriel will regard this report as better than nothing. (Antoine Clarke, also present, might like to comment about all the things I missed, and maybe clarify some of the numbers involved in this story, people, hit rates, etc.) I will add only that whereas there are now no Spanish libertarian sites which also present themselves to the English speaking world in English, this is apparently about to change. There will soon be an English language site devoted to Spanish affairs, written by Spanish libertarians. Gabriel has promised to inform us as soon as it gets going.
Altogether a fascinating, and most encouraging evening.
Afterwards we had a late supper at Tim and Helen's, which is where I took this photo of Gabriel.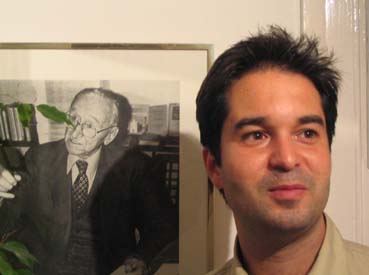 Hayek (on the left in black and white) is saying: what is that greenery doing in front of me? Gabriel is a great enemy of greenery, having recently penned a denunciation of the Kyoto Treaty, so particular apologies for that blemish.
Oh, and did I mention that Gabriel Calzada has also just been made a Professor at the University of Madrid?
If ideas have consequences, and they definitely do, then Spanish libertarianism is going to have some very big consequences indeed.