Fritz Werner is my all time favourite conductor of Bach choral music, bar none, and yesterday I got this CD set of (get this): the St John Passion, the St Matthew Passion, the Christmas Oratorio, the B Minor Mass, plus a Motet, plus a Cantata (the one with Jesu Joy of Man's Desiring). Ten brand new CDs for £22 the lot.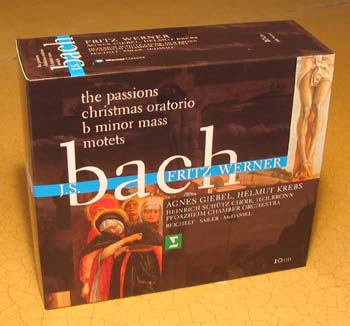 Is capitalism great or what? � asks JP in the previous post. I reply that capitalism is definitely not in the Or What? category. (Trivia digression: In what movie did actor Clu Gulager say that he was in the Or What? category?)
People who say that money cannot buy happiness are just no good at shopping.