Everyone is entitled to their sensibilities, however wacky, just so long as they do not try to make them the law of the land. As a result when I describe Los Angeles Times writer T. J. Simers as a 'weird prude', it is not with the sense of loathing, hatred and vitriol I would have used were I under the impression he was suggesting that his disquiet over a picture of a beautiful young woman in a pair of shorts (and presumed wish to see people share his puritan values regarding women) be reflected in the law of the land by imposing censorship.
But a 'weird prude' is indeed what I think he is. Whilst I see that bizarrely the age of consent in the benighted state of California is 18, in the vast majority of the world and even in much of the USA, the age at which one is permitted to engage in sex is 16. Moreover even if for some reason you conclude that the age at which young adults should actually have sex should be 18, surely only the most purblind would actually expect a 16 year old to be asexual even if they were abstinent.
So when an attractive physically active 17 year old has a picture taken wearing no less clothing than that in which millions of people have seen her win tennis tournaments…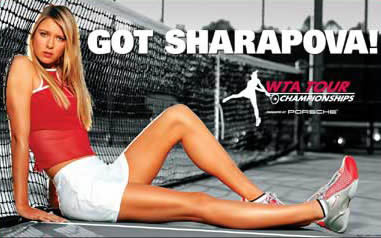 … T. J. Simers asks, no doubt thinking the true answer is beyond the pale:
Now what do you think when I tell you the girl in the ad is 17 years old?
Well, yeah. The girl is question is Maria Sharapova and since she won Wimbledon, quite literally tens of millions of people know exactly how old she is. And what do I think? I think "Nice legs! What a babe". I am, distressingly, old enough to be her father, but that does not change the fact she is a very attractive young woman. So what?
He continues:
Sharapova may or may not be the most mature 17-year-old the world has known, but she's still 17. A kid. And if the message to young girls everywhere in the L.A. area is that sex sells – rather than Wimbledon championship tennis, shame on anyone who rewards AEG this week and takes their daughter to Staples Center.

Where were her parents? "There you go," said Lindsay Davenport. "I wouldn't do it, and I can tell you my daughter wouldn't either."
Well Lindsey Davenport was a great tennis player but I for one am also relieved she never struck such poses, though gallantry prevents me from elaborating what I think are the obvious reasons for that. But why oh why does Mr. Simers or Mrs. Davenport think a 17 years old should an asexual being? The advertisement was not one in which Maria Sharapova was offering to have sex with anyone, just displaying her athletic assets (her body) in a way in which many would find rather attractive. Being attractive does indeed sell so why pretend otherwise? Is the fact she is not pictured in the act of playing tennis somehow make her sexuality more obvious than these…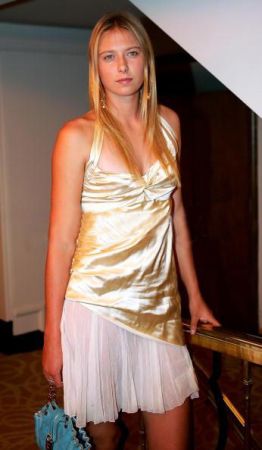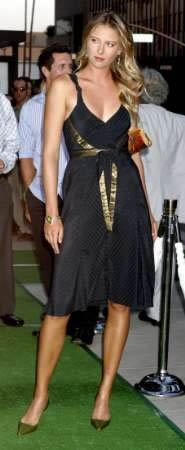 Clearly this is not a young woman who is in denial regarding the fact she is a sexual being and hardly seems like some bewildered victim of heartless ad man dressing her up as Lolita. I rather doubt the camera man had to wrestle a teddy bear out of her arms to get her to strike that pose. For T.J. Simers to find the WTA image offensive is perverse and suggests to me that he must have some quaint notions of what 17 year olds are really like and how people should perceive them.
Millions and millions of people are married or in long term sexual relationships by the time they are 17 and many of those are also parents, which suggests that the peculiar notion of infantilising young adults and calling them 'kids' for as long as possible is rather far off the mark.
I think what really made this whole thing seem so daft to me was that I have just got back from an interesting exhibition about the Crimean War which features an account of a 14 year old who had accompanied the British forces on that campaign and it all really does make some of the modern notion of a strict division between adulthood and childhood seem truly preposterous when talking about a worldly 17 year old Russian woman who, if you have ever heard her interviewed, is obviously no fool.
There is something profoundly odd about the mindset of a certain ilk of conservative.