In this posting earlier today, Jonathan mentions how The Incredibles includes some "clever and sly digs at America's litigation culture". So here is another clever and sly dig at Britain's fast expanding litigation culture: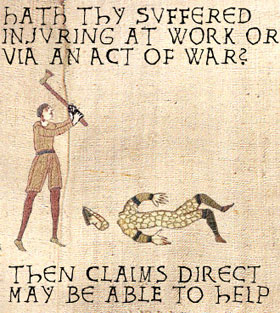 With thanks to b3ta.com.
Did you join an army, and then get hurt in a battle? Sue your commanding officers for forgetting to warn you that war is sometimes violent.
Did you fall over, because of running too fast? Sue the owner of the floor you fell on, the person who employed the person who spilt some water on it and made it slippery, the maker of your shoes for not making them with more grip, the maker of the floor tiles, but: on no account blame yourself, for being careless. Your life is not your fault. It is the fault of somebody else, somebody rich. And if you were engaged in robbing the place at the time, never mind: this makes no difference!