The other day, I snapped the following photo, in the London Underground. I tried as hard as I could to get the entire thing in my picture. Had I stepped back any further I would have been (a) electrocuted and then shortly after that (b) run over by a train.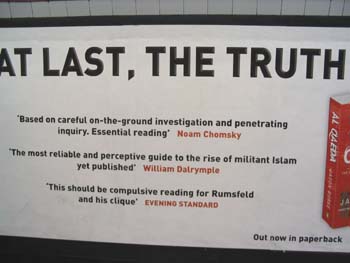 I have not read this book, which is by Jason Burke. But: Naom Chomsky? "Rumsfeld and his clique"? Something tells me that whatever the nuances of the truth here revealed, America will get the blame for it all and Islam hardly any.
William Dalrymple should not be confused with Theodore Dalrymple. Read what Theodore has to say about William (no relation), in this article, this sentence being the one that seems to me to matter most:
… Dalrymple comes perilously close to condoning what he is trying to explain…
I did an earlier posting about William Dalrymple, and the comments there are also well worth looking at to learn more about the man and his views.