I could not possibly let the day pass by without reference to the death of Marlon Brando.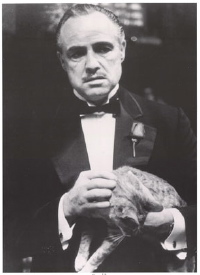 As far as I am concerned, there are actors, good actors and then there are stars. Brando was a star. But of all the roles he played, I will remember him best for his potrayal of mafia boss, Vito Corleone, in the Godfather. Not only did his enormous screen presence seer itself into every frame, but he took this character and turned it into a genuine cultural icon.
R.I.P Marlon Brando.