Yes folks, this is a quiet Friday and it is Strange Photographs by Brian time.
This time, what we have is a fake Thunderbird rocket, which has been temporarily installed in Trafalgar Square in honour of the new Thunderbirds movie, which opens in London around now. I took the photos yesterday.
There have been all kinds of ideas floating around about what objects to put in Trafalgar Square, next to Nelson, and (I think) Havelock, and the lions. I think this is one of the better ones.
Here is the general context, which means lots of tourists clambering about on the lions and photographing one another: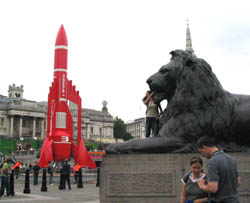 Here is the one where the rocket is dwarfed by an earlier and more famous erection: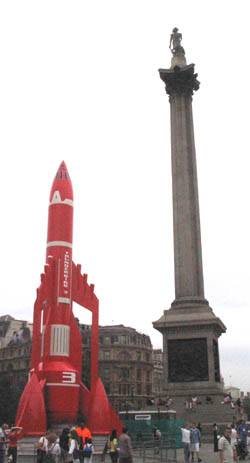 Here it is looking a bit like a rival church. What this also shows is that actually not much attention was being paid to the thing, because it is actually rather small: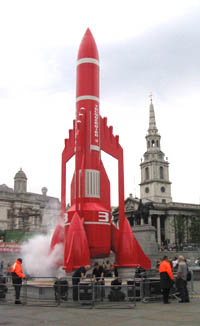 And here is the Samizdata friendly shot: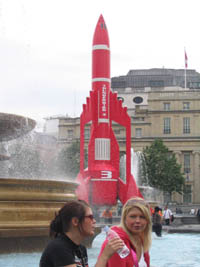 Apparently quite a few of the scenes in the movie are set in London, and feature many of London's famous landmarks, old and new, including the new local politician hutch that London has just recently had inflicted upon it.