I finally have all my photographs in hand, or on disk rather. As promised, here is the behind the scenes photo story (via a small fixed lens film camera) of the people and the historic event they came to celebrate.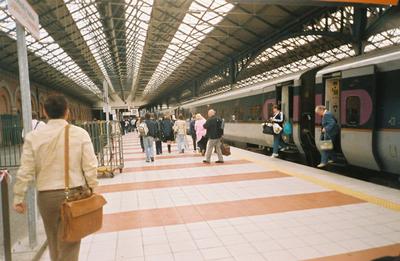 The first leg of my journey from Belfast ended at Dublin Connolly Rail Station.
Copyright D.Amon, all rights reserved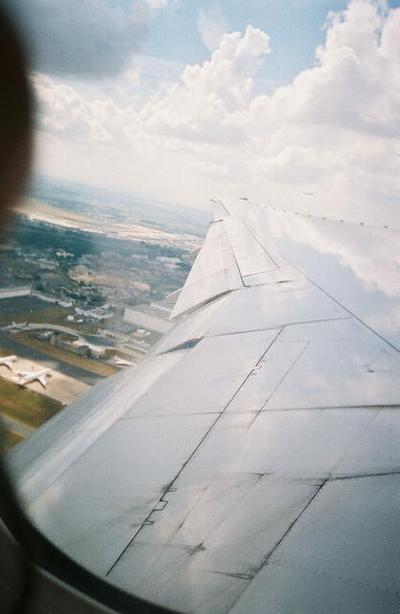 After a night of revelry with some Dubln based musicians I flew to Los Angeles by way of Charles deGaulle Airport. Might Dissident Frogman have noticed disturbance in the Force as a Samizdata Editor flew over France?
Copyright D.Amon, all rights reserved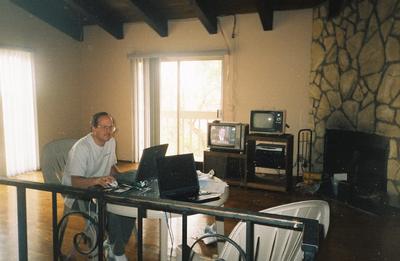 The contents of the house in Redondo Beach have gone elsewhere but Rand Simberg still managed the network connections and 24 Hour News Feed necessary to the health and well being of bloggers.
Copyright D.Amon, all rights reserved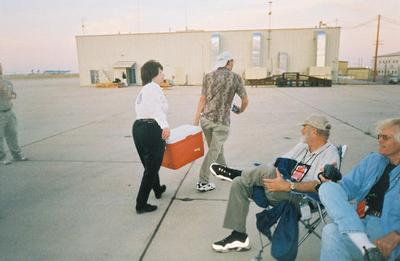 Aleta Jackson got stuck with the job of keeping us all fed and watered… as well as helping co-ordinate event staff all over the airport.
Copyright D.Amon, all rights reserved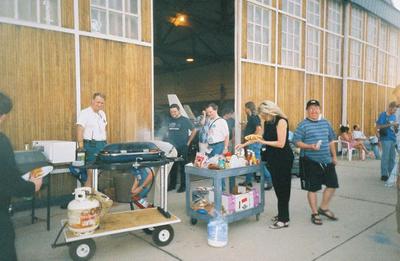 How many rocket scientists does it take to put out a burning barbie?
Copyright D.Amon, all rights reserved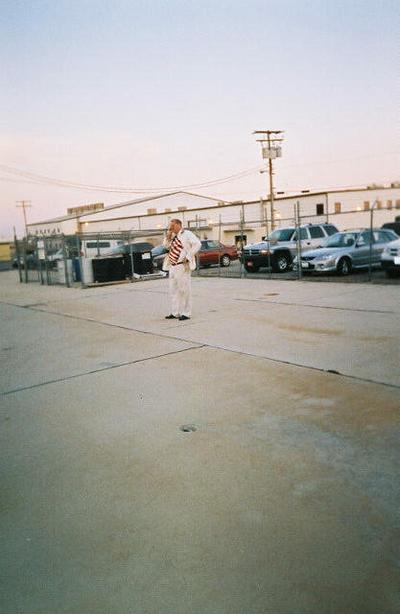 Dr Pournelle is outstanding in the field… and you knew he was there long before you could see him.
Copyright D.Amon, all rights reserved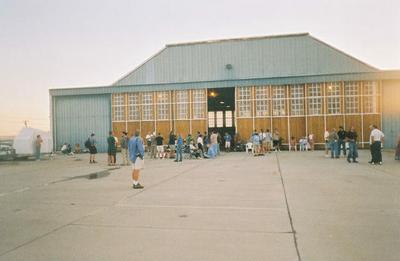 A long shot of the XCOR barbecue. I understand it went on much of Sunday, although Rand and I did not arrive until evening.
Copyright D.Amon, all rights reserved


Mouser, the XCOR hangar-cat, decided a padded equipment box was just purrfect for sleeping through the territorial invasion.
Copyright D.Amon, all rights reserved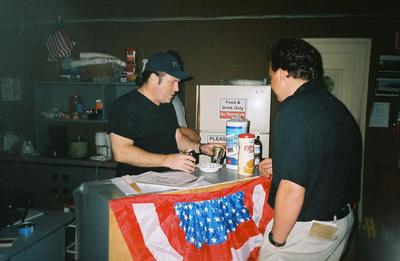 Rick Tumlinson of Space Frontier Foundation (and MirCorp fame) was caught in the act of bartending at the XCOR hangar.
Copyright D.Amon, all rights reserved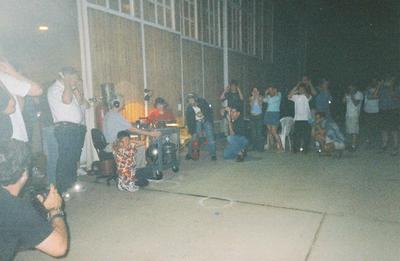 XCOR did their party piece: a teacart engine firing just after dark.
Copyright D.Amon, all rights reserved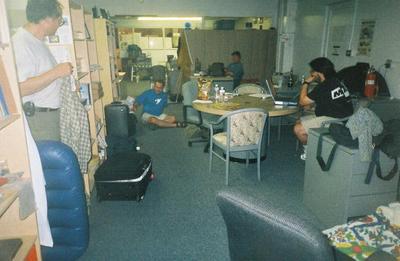 The XCOR Shelter for Homeless Rocket Scientists. Besides myself behind the camera, Rand Simberg of Transterrestrial Musings is to the left; Michael Mealing of RocketForge is in the centre; and I have not a clue who the laptop wielding person to the right is.
Copyright D.Amon, all rights reserved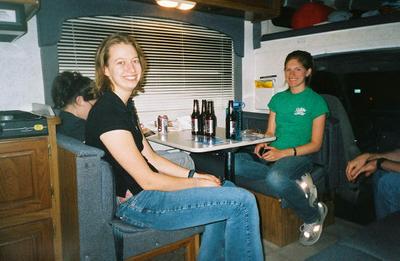 Meanwhile over at the National Space Society (NSS) RV's… Bethany lights up the camper.
Copyright D.Amon, all rights reserved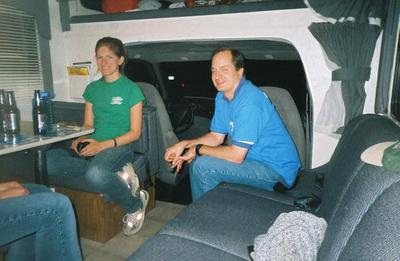 Randall Severy, sitting at right, is the current NSS Hero of the Revolution for helping recover the NSS membership database (don't ask!) and is also one of the key people in the Artemis Society and Moon Society.
Copyright D.Amon, all rights reserved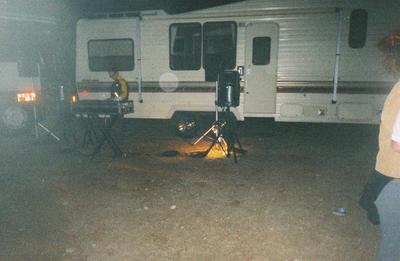 Meanwhile outside, the DJ plays music in the wind-driven sand. It was 2004. It was loud. "If it's too loud, you're too old", as we say in the music biz.
Copyright D.Amon, all rights reserved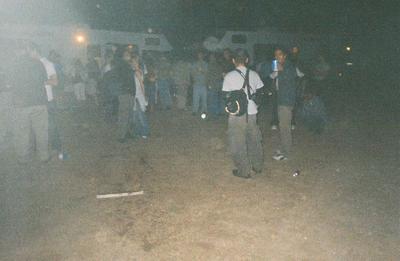 A shot of the midnight crowd. The haziness and blobs are due to the sand. There was plenty of food and kegs of beer outside so I am quite sure I brought a wee bit of the Mojave back to Belfast with me.
Copyright D.Amon, all rights reserved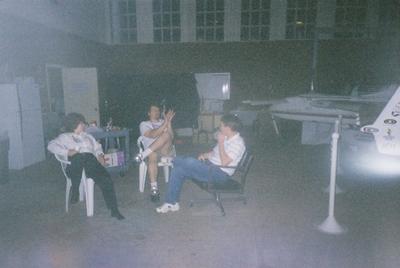 Aleta was at her post in the hangar when I returned from the NSS and SFF party and as far as I know did not get any sleep until Monday afternoon.
Copyright D.Amon, all rights reserved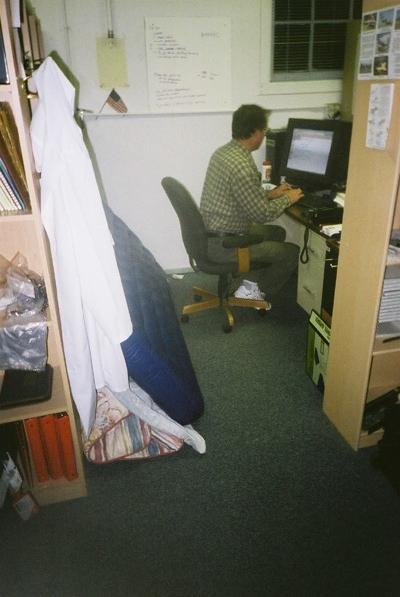 Rand's first thought's in the morning were blog related of course…
Copyright D.Amon, all rights reserved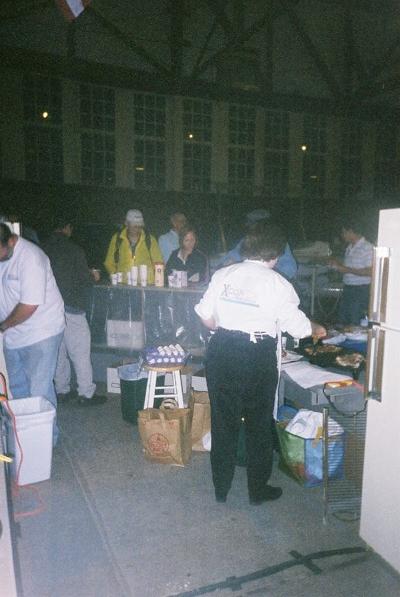 Aleta and other XCOR staff served bacon and an "egg-like substance" (as the person frying the eggs labeled it) starting around 0400 or earlier.
Copyright D.Amon, all rights reserved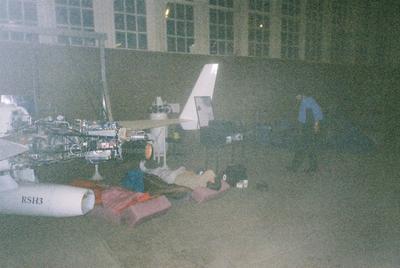 Yes, someone really did sleep under the wing of a rocket plane!
Copyright D.Amon, all rights reserved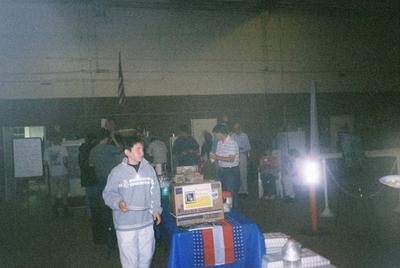 There were lots more than the fried stuff on the hangar breakfast serving line. Lovely strawberries, other fruit… and most importantly: good coffee.
Copyright D.Amon, all rights reserved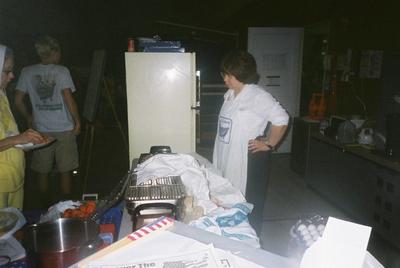 Aleta wills the bacon to fry faster.
Copyright D.Amon, all rights reserved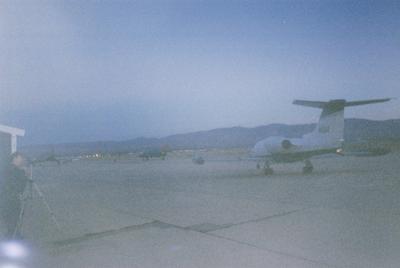 Dawn's first light. Cue 'Top Gun Anthem'.
Copyright D.Amon, all rights reserved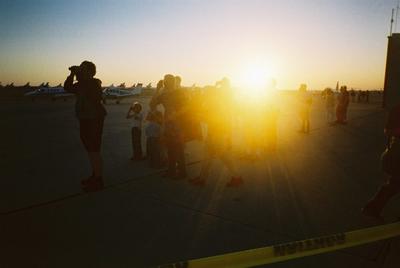 Sunrise.
Copyright D.Amon, all rights reserved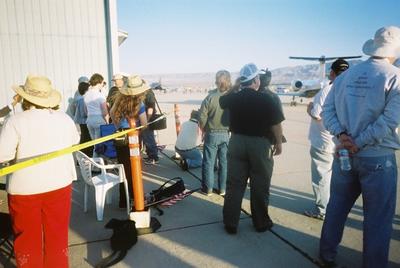 XCOR spectators watching for activity at Scaled Composites, a couple hangars down that-a-way.
Copyright D.Amon, all rights reserved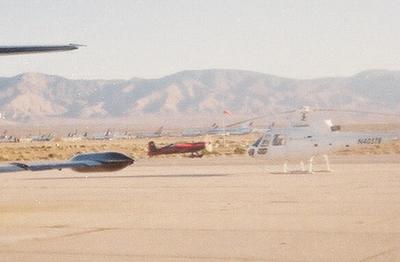 Low level chase plane (Coleman/Bird) taxi's past on the way to the active.
Copyright D.Amon, all rights reserved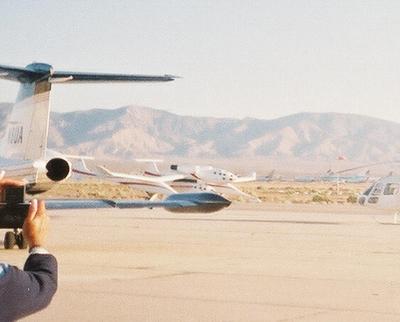 White Knight (Binnie and Stinemetze) with the underslung SpaceShipOne (Melvill) taxi's past XCOR.
Copyright D.Amon, all rights reserved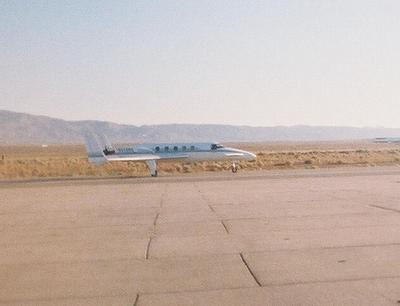 Rutan's own Beech Starship (Karkow/Scherer), one of the last of its kind, on the way to the active. It is one of the high altitude chase planes.
Copyright D.Amon, all rights reserved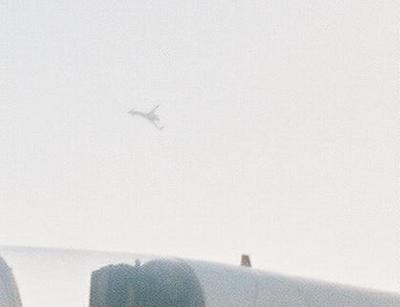 The Starship takes off. (Cockpit below it is a NASA T-38).
Copyright D.Amon, all rights reserved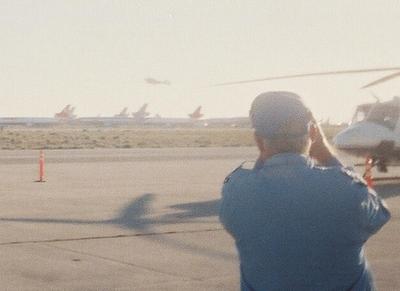 White Knight and SpaceShipOne in the air!
Copyright D.Amon, all rights reserved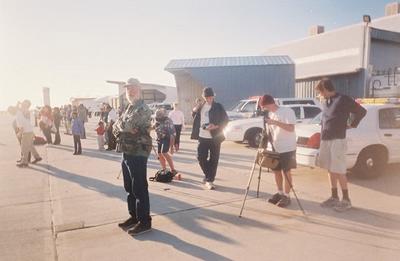 Crowd along the tarmac as I walked down towards the Control Tower.
Copyright D.Amon, all rights reserved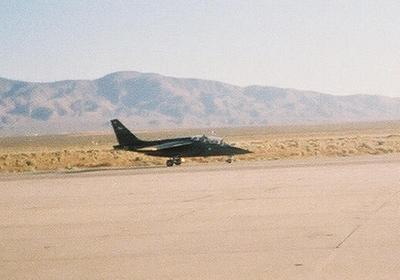 Alpha Jet (Van der Schueren/Johnson) on the taxiway. It is the second high chase plane.
Copyright D.Amon, all rights reserved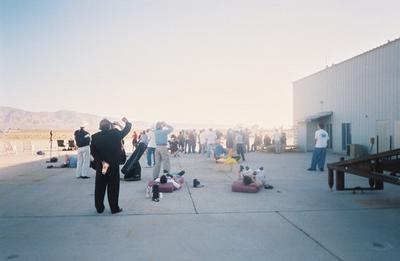 Now we watch and wait as the planes slowly circle up to the 50,000 foot drop altitude. Notice that even this early in the morning most everyone in the XCOR area has moved into the shade…
Copyright D.Amon, all rights reserved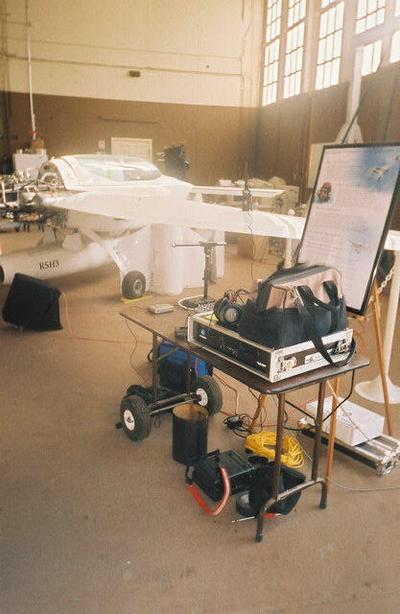 One of the XCOR people jury-rigged a walkie talkie on the flight frequency to a PA system so we could hear what was going on far above as we stood outside the hanger and watched.
Copyright D.Amon, all rights reserved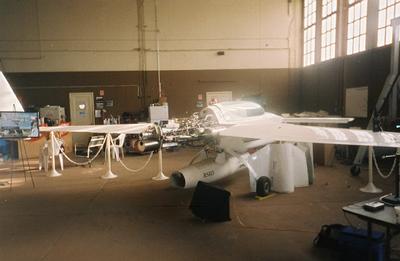 This was a good time for me to take a daylight shot of the XCOR EZ-Rocket.
Copyright D.Amon, all rights reserved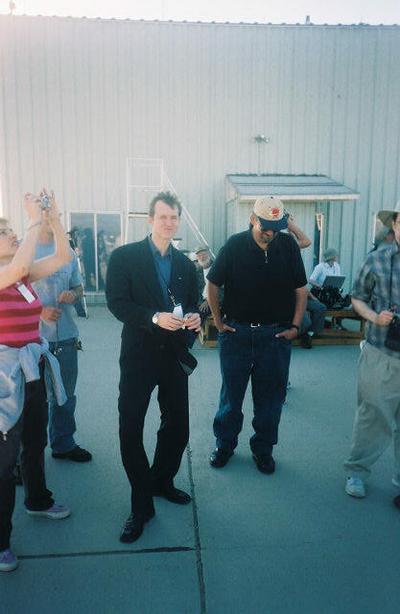 George Whitesides, center, is the new NSS Executive Director. The outdoor, all-night RV/Disco/Keg party seems to have been his idea… I think I am going to enjoy his tenure!
Copyright D.Amon, all rights reserved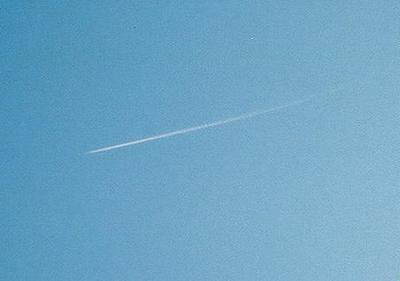 At 20,000 feet or so we could see contrails. This made it a lot easier to find the little itsy bitsy dots way up there.
Copyright D.Amon, all rights reserved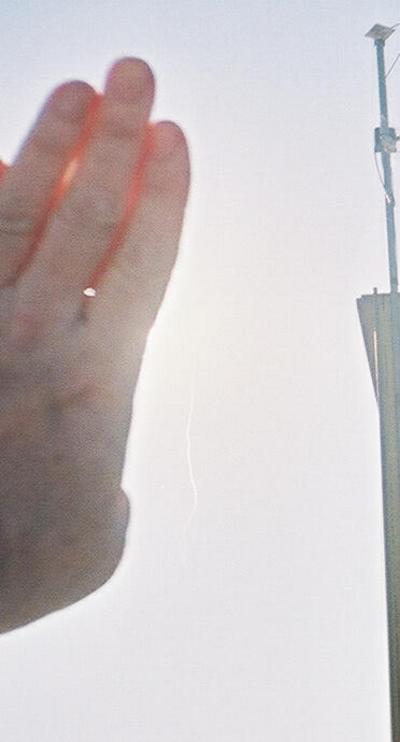 Drop… and IGNITION!!! Unfortuneately they were coming out of the sun when they did so… thus my need for a handshaped occulting disk.
Copyright D.Amon, all rights reserved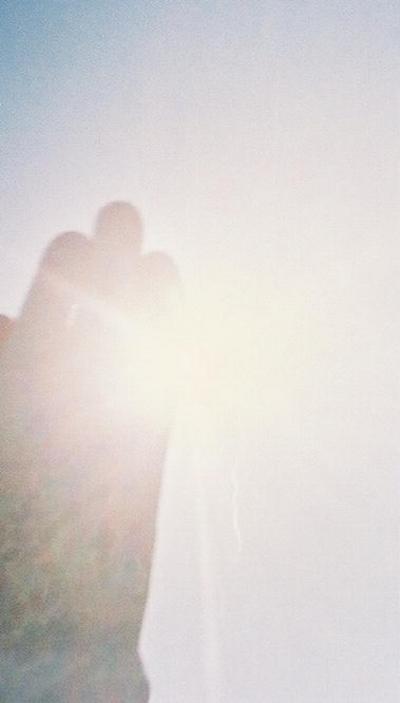 They climbed…
Copyright D.Amon, all rights reserved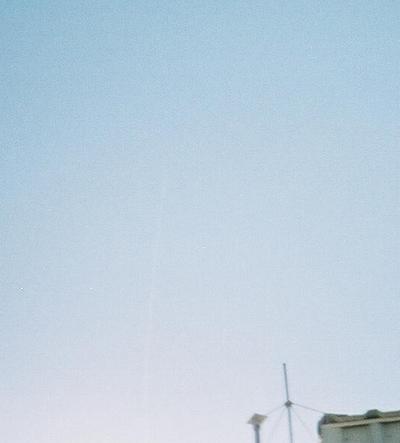 and climbed…
Copyright D.Amon, all rights reserved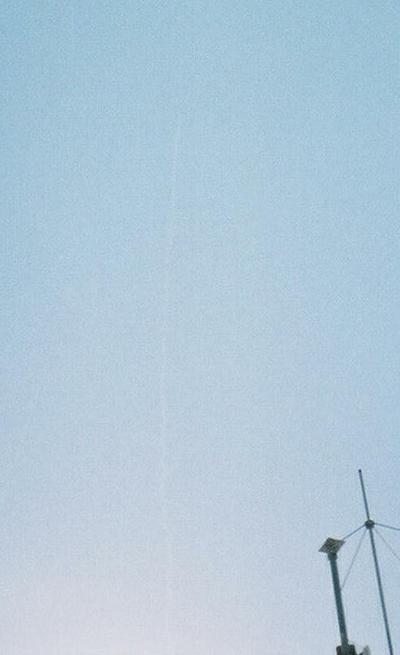 and climbed…
Copyright D.Amon, all rights reserved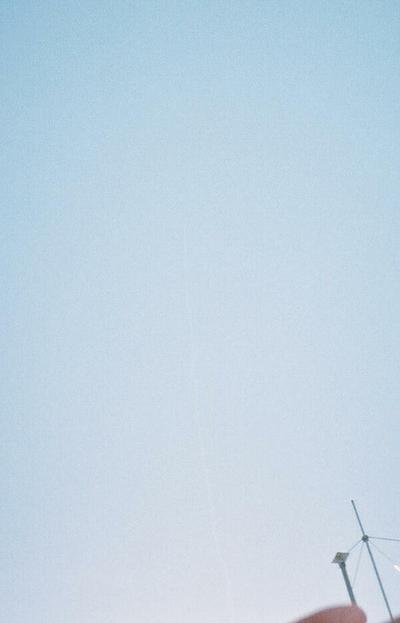 and climbed…
Copyright D.Amon, all rights reserved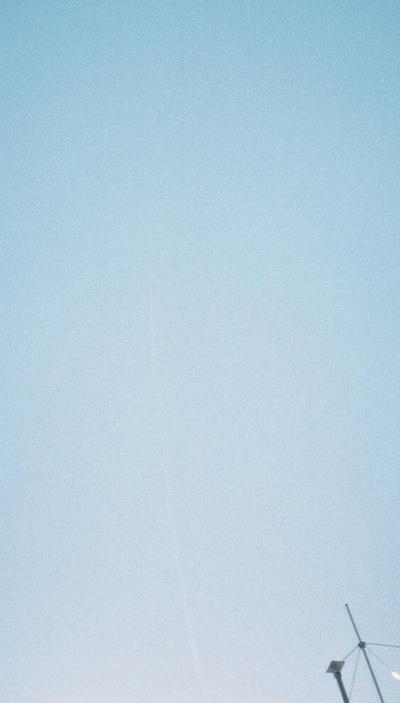 and climbed…
Copyright D.Amon, all rights reserved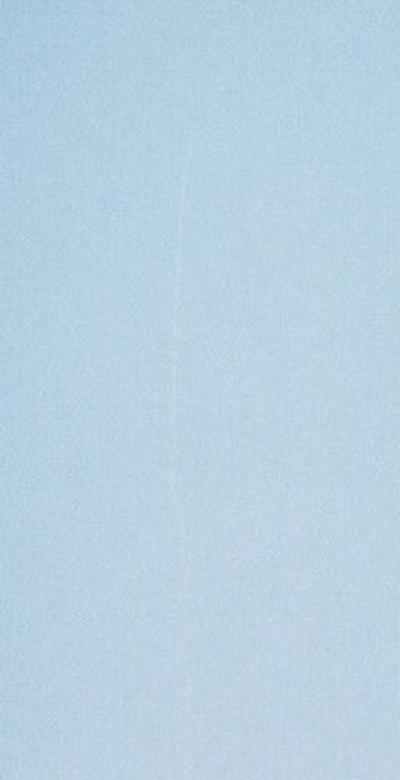 and burned out a mere 75 seconds later.
Copyright D.Amon, all rights reserved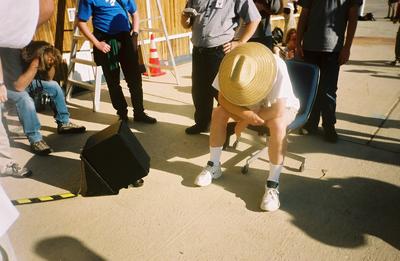 Then all we could do was listen to the cockpit chatter as Mike Melvill coasted over the top and into re-entry. It was a nervous time. Re-entry was the time I personally was most worried about.
Copyright D.Amon, all rights reserved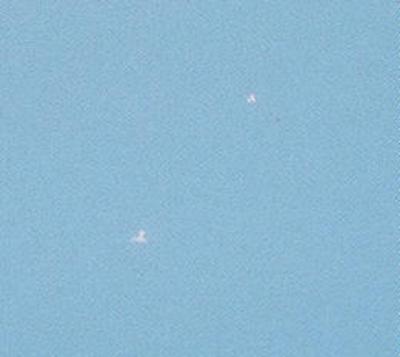 SpaceShipOne was well off the Mojave airport so it was awhile before we saw it. Here it is making a turn over the field as it dumps energy in preperation for the landing. I believe SpaceShipOne is upper right and the Beech Starship is lower left.
Copyright D.Amon, all rights reserved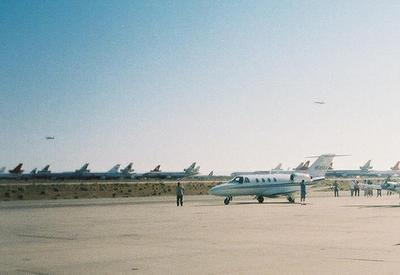 Starship and Alpha Jet (I am not absolutely certain of the identifications from looking at my blowups) come in low as SpaceShipOne glides into a landing.
Copyright D.Amon, all rights reserved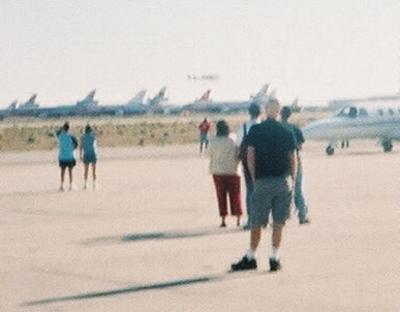 White Knight beats up the active on a victory pass.
Copyright D.Amon, all rights reserved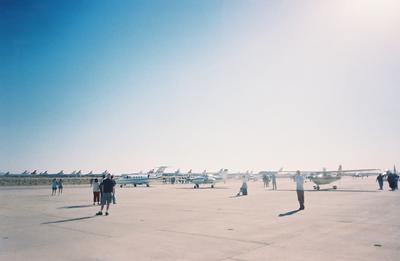 Somewhere against the background clutter of stored airliners there is a spaceship sitting on the runway where its rollout completed.
Copyright D.Amon, all rights reserved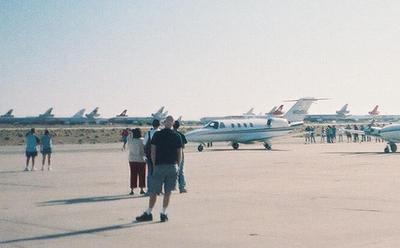 This is a bit of a blow up. It is there somewhere…
Copyright D.Amon, all rights reserved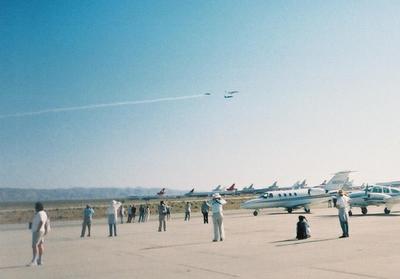 A formation pass of the three chase planes. The smoke is from the aerobatic low chase plane; the other two are fast jets: the Alpha Jet and the Beech Starship.
Copyright D.Amon, all rights reserved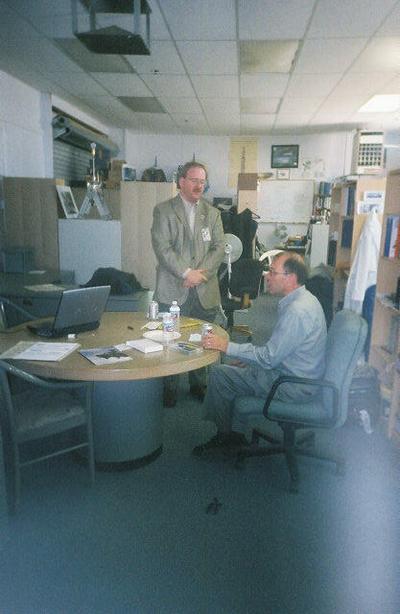 With all the media and potential investors floating around the airport, Jeff Greason (centre) felt it necessary to put on a disguise.
Copyright D.Amon, all rights reserved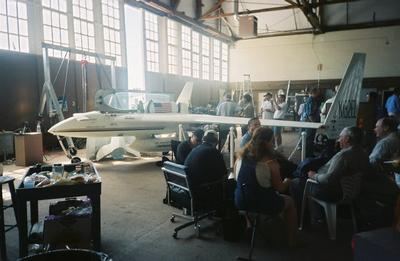 An atmospheric shot of the XCOR EZ-Rocket.
Copyright D.Amon, all rights reserved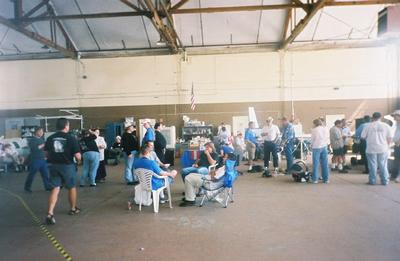 The crowd in the XCOR hangar after the flight. Two of the XCOR rocket scientists made icecream for us… mix milk and fresh strawberries in a blender, then stir continuously in a stainless steel bowl while an assistant pours in the Liquid Nitrogen… Took about 10 minutes altogether and tasted great.
Copyright D.Amon, all rights reserved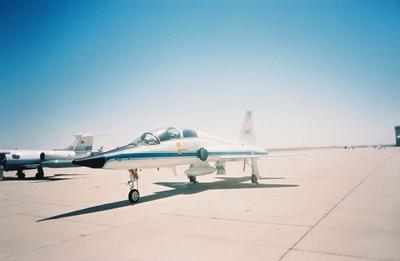 NASA T-38 flown in by an Astronaut.
Copyright D.Amon, all rights reserved


Doug Jones (at table in pink shirt) controlling an indoor demonstration firing of the teacart engine. Believe me, it is loud!!!! This engine will be part of the RCS on Xereus, their next step.
Copyright D.Amon, all rights reserved