The evening sun that illuminated one of my favourite views near where I live was especially dramatic this evening. And this little photo of how things looked is surprisingly effective I think. Even the little thumbnails I got I scrolled through all the pictures in Photoshop to choose a good one looked rather impressive.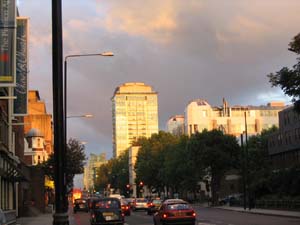 But if you would like to see this rather bigger, then click on it.
I suppose there are some readers of this blog who will say, when confronted by images like this: what has this got to do with blah-blah-blah-ism (or whatever word they choose to give to the political assumptions and axioms we tend to favour here)? But, even though many readers may be puzzled, the fact is that our standing orders here are to write about what is on our minds. And what was on my mind when I went shopping earlier this evening was not the EU or the level of taxation or the importance of consenting relationships. It was how beautiful that usually quite mundane building over towards the river can look when it catches the evening sun just so, and especially when the sky behind it is also doing dramatic things of its own.
This kind of thing does make me want to have a more expensive camera, though, plus some lessons in how to use it. Because what my cheap little camera shows you is only a pale shadow of what I myself saw.
We have a posting category called "How very odd!". Now I want one for "How very beautiful!" Meanwhile, "Architecture" will have to do.