English weather is talked about, by the English, a lot. This is because if is caused by about nine different things, such as the Gulf Stream, the North Sea, the Arctic, and several other things of equal importance. It can change at any moment. How they forecaste it, I will never know, but they seem to be able to.
Take today. A fortnight ago, Summer had arrived. Then it got colder and wetter again. Then it brightened up, and yesterday, Michael Jennings was being congratulated for bringing the fine weather with him back from Australia. (Welcome back Michael.) That was Sunday. On Monday, Philip Chaston was back to bemoaning the bad again weather.
This morning was even worse. Windy, wet, horrid, and poor windswept me had business elsewhere in London in the morning. When my event began, men were forlornly standing about in their drenched summer clothes. At lunchtime, my business concluded, I waited in a second hand CD shop for the rain, which had suddenly got far worse, to calm down. When it did, and I ventured out, and it then started severely raining again, I scurried to the nearest tube station, and journeyed to my local station, Pimlico. What I found when I emerged from that was something else again.
I found this: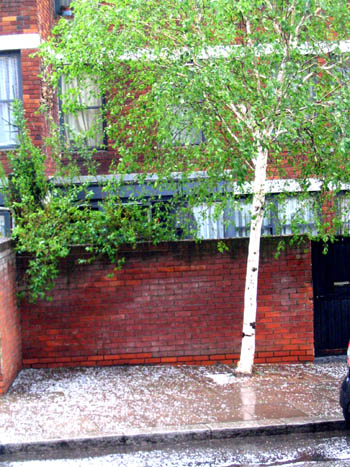 I know what you are thinking. A tree, confused by the early summer sunshine, has blossomed, but then, shaken to its roots by the mad May breezes, it has shed its plumage and been given a good February-style soaking.
But look again at that "blossom". When I first saw it, on the steps of the station, I of course could see that it was not blossom, and I thought: snow. But actually, it was hail. The hardest, most spherical, most peculiar hailstones I have ever seen in my life. They were perfectly spherical, and looked more like bits of polystyrene than anything natural.
I spent the next twenty minutes snapping artistic type photos of this hail with my Canon A70. In photography circles you are nobody until you have taken close-up, shiny droplet photos of all the various things that water does, when it lands on strange surfaces. So I snapped away at car roofs from close up, hoping that the results would resemble Abstract Expressionism.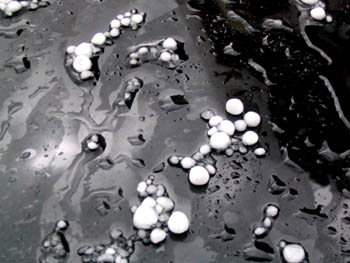 The hail stones were not especially big, in fact they were quite small. But having been frozen with great ferocity, presumably at some extraordinary altitude, they appeared impervious to the ground temperature. They floated about in clumps, in puddles, melting not at all. Had my batteries not run out I could probably have carried on snapping away at them for the next hour.
The Dissident Frogman, with whom I discussed this English habit of weather talk only yesterday, said that, yes, in France, if it starts raining, it is liable to rain for the next three days, so there is nothing to be said. In England, you just never know from one hour to the next what the weather will do. Or when. I like it.
There is no political or philosophical message here, just English talk about the weather. But what I most like about stuff like this is that everything interesting to look at is now a photo-opportunity. That I really like. Well done my Canon A70.