I spent a couple of hours at Tokyo Narita airport yesterday morning, changing planes on the way back from Sydney to London. Like many geeks people, I like to check frequently to check my e-mail / check the news / see if anyone has insulted me in the Samizdata comments section, so I wandered around the terminal looking for an internet terminal on which to do so. Narita is well served with such terminals, so I was quickly satisfied.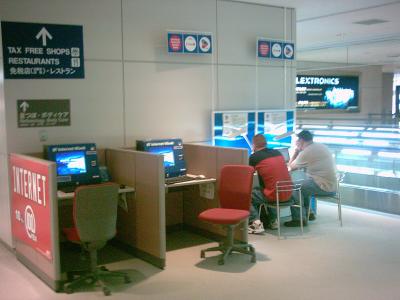 What is interesting here is that there are internet terminals provided by two separate companies here. The ones on the left are provided by a local ISP, and users are charged ¥100 (about £0.50) for ten minutes of use. The ones to the right are provided by Intel, and are free to use. The photograph illustrates that the usage patterns are indeed what would be predicted by the laws of economics.
It is actually quite common now to find free internet terminals for use in airport terminals, particularly in airside transit lounges where passengers may spend a few hours between flights. This is a relatively simple and cheap amenity for airports to provide to their customers, so they do. Often though, the airport does not even need to provide it: some technology company will set it up for free, in the belief that the sorts of people changing planes at major airports are the sorts of people they want to advertise their services to. As well as free internet terminals provided by Intel, I have also seen free internet terminals provided by Yahoo at Tokyo airport. (I have seen free internet terminals provided by Samsung at Sydney airport which never seem to be working – probably not a good way for the company to advertise itself). The good thing at Tokyo is that they seem to be willing to allow competition between various organisations that want to set up such terminals, and they apparently don't have to be free.
Which when you think about it makes a certain amount of sense. If you provide a good for less than the market price, access to the good will normally end up being regulated by queues and quotas (ie willingness to wait, and restrictions on the amount of the good you consume, regardless of how much you want) rather than by ability or willingness to pay for it. (The public health systems of the world, which are full of people waiting endlessly for medical care, are prime illustrations of this). In busy periods, queues are likely to form for the free terminals, and at that point people who really need to access the internet quickly are still likely to be able to do so if they are willing to spend money. And such people can then use the terminals for as long as they like, whereas time restrictions are normally placed on free terminals. (From this we can also conclude that the health system of Australia, in which people who are willing to pay more can jump the queues of the public system and have their healthcare done privately, is better than the situation in Canada, where private provision of healthcare is essentially illegal).
In practice though, I doubt the providers of the for pay terminals at Narita are making much money, simply because the provision of free terminals there is so good. Putting them behind security restricts their use to passengers, and therefore demand cannot grow in the way it does for many free goods. They may get some use at busy times, but I suspect not much. However, in certain other airports (for instance Singapore) where there are free terminals but not many of them, for pay terminals could (and do) also get a lot of use.
And in the case of healthcare, where demand is capable of growing completely out of hand if you eliminate price sensitivity completely, private provision that people pay for directly is the only way that anyone will end up with reasonable access to healthcare. Given that (unlike with free internet terminals) people are paying for the public health system out of their own taxes in the first place, the argument for eliminating most public health care and having proper price sensitivity from the start is pretty strong.