Nothing any political body says can be taken at face value. On that point I doubt many would demur. In days gone by when the state had a large measure of control over information flows, this was only to be expected and was easier to do. In modern times, this is a bit harder to pull off and requires 'spin' and other psycho-media exercises in obfuscation to muddy waters, confuse issues, bamboozle and generally misdirect people from politically inconvenient facts. Nevertheless, in this information rich interconnected world in which we now live, one can but marvel that some political creatures seem to act as if they operate in a universe in which the official pronouncements carry the same weight they did in, say, the 1920's.
A remarkable and even bizarre example of this is the summary which has been attached to the factual European Monitoring Centre on Racism and Xenophobia's report on anti-semitism in Europe. This EU publication comes out against the screamingly obvious backdrop of Islamic youths running rampant in some communities in many countries. And the summary of this report states what exactly?
The largest group of the perpetrators of anti-Semitic activities appears to be young, disaffected white Europeans
Huh? I mean, did they expect that no one would actually read the actual main text? The report clearly says that by far the major source of 'anti-semitic' (meaning anti-Jewish) violence is other semites… Muslim ones. Now back in the bad old days when I used to spend time whiling away the hours in the offices of a management consultancy, I recall during one large project the company's managing director urging us to use particular care crafting the six page executive summary of what was a consulting report that stood about three feet high when stacked on a table, because "in reality, no one who matters will ever read the report, they will just skim the summary" (the client, by the way, was the BBC).
Perhaps this baleful ethos has now become the received wisdom in the EU's administrative corridors as well, thus motivating the political masters who oversee such things before they are released to conclude that if they spin the report's summary to direct ire at the usual darlings of the collectivist left (which is to say the collectivist so-called right), no one will actually read the report and realise that a tiny marginalised group of politically invisible shaven headed moonbats with an Adolf Hitler fetish is not the main problem.
To anyone actually reading the whole report its should be clear that the problem is a far larger group of politically highly visible Muslims who are hypersensitive to criticism, even when it is just a statement of demonstrable truth. My suspicion is that the reason for this odd official behaviour is that once the true nature of the problem permeates the consciousness of the pan-European tabloid reading public, entire rickety networks of axioms lovingly constructed and nurtured by several generations of moral relativists could come crashing down like two falling skyscrapers colliding with ugly reality. The issue at hand is not just the small minority of violent Muslim youths, but a broader Euro-Muslim society from which they spring which always suffixes its own criticism of anti-Jewish acts with "but…".
However confronting that would imply that hard political choices lie in the not so distant future. Furthermore, it suggest accepting that whilst races may be equal, societies are certainly not. The two divergent strains of western social evolution are reaching the point at which the differences cannot be papered over. The old blood-and-soil volk is thankfully dead and either we are moving towards a series of legally enshrined cultural ghettos defined by collective rights (multiculturalism) or we are moving towards an melting pot culture of eclectic individual styles and preferences revolving around an emergent common social core (cosmopolitanism). This is not the sort of stark discussion many people want to have amongst either the Paleo-Conservative right or Transnational Progressive left.
Now at first flush, the 'Transnational Progressives' should not see cosmopolitanism as a bad thing, what with their 'let's all come together and sing Kumbayah' ethos. That is until you realise that the whole Tranzi value set is about coming together within the context of a series of mediated political collective 'cultures' and not an individual roll-your-own approach to culture. People who come together but insist on singing 'Rule Britannia' and then think nothing of watching a St. Patrick's Day Parade followed by a nice Vindaloo Curry not only do not compute, they are dangerous if they actually define themselves that way: they (we) are Marx's hated 'rootless cosmopolitans', free from the predictable and ostensibly stable sociological stasis that societies which make a fetish of custom have.
What is more, the cosmopolitans are the evolving expression of the post-tribal extended order about which Hayek wrote. Cosmopolitans, far from being an unintelligible social babble to each other in reality revolve around the same core social values, the same ones which have enabled capitalist trade and several property to flourish. It is the extended order's ability to foster trust and exchange amongst strangers from outwardly dissimilar people's which so threatens the mediated collectivist social model, the same mediated collectivist social model leads to such absurdities as an inability to harshly criticise the Muslim and Euro-Muslim culture which even according to the body of the EU's own report spawns violence against European Jews, not to mention other wider issues such as high unemployment due to an unwillingness to assimilate.
That admission that some cultures are simply less advanced and of less objective value, unable to provide either liberty or affluence, throws into question the whole concept of both relativism (clearly some cultures are not as successful at dealing with reality as others) and collective rights (if some collectives are based on monstrous assumptions, enshrining collective rights enshrines monstrous assumptions) upon which the Tranzi edifice is constructed. That is not a path for discussion which many of the people who preside over regulatory statist systems feel comfortable going down. The real but tiny fascist lunatic fringe has been designated the scapegoat of choice a la the fictional 'Emanuel Goldstein' in 1984: the target of officially sponsored hate. Moreover, any attempts to just use objective social reality to figure out what is going on has to be discouraged or where will it end? Perhaps people might stop believing what they are told by the establishment! I am open to alternative explanations of this strange institutional behaviour however.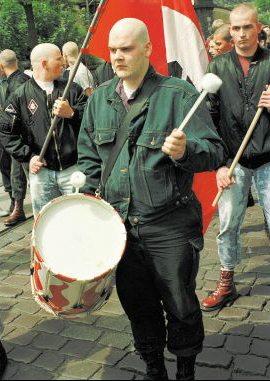 The designated badguys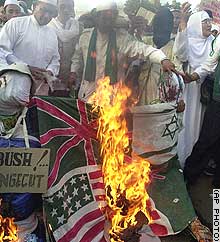 Just misunderstood gardeners!