I can only hope that the Americans keep their nerve and use the wide scale of the uprising to not just decapitate the more florid Islamist leadership but also place clear 'markers' as to what the response will be to armed uprisings during the de facto 'protectorate' phase of Iraq's post-Ba'athist reconstruction.
As things are developing day by day, it is pointless for me to just reiterate the reports filling the news media as to the current state of the cut and thrust on the ground, but there may indeed be an analogue with the Vietnam war here… and it ain't a 'quagmire'… the Tet offensive may have been a political disaster for the USA but it was a military triumph and more or less wiped out the Vietcong as a significant military and political force. If the US can do the same to not just Muqtada al Sadr's Islamo-fascist militia but also to any the militias of any who make the mistake of supporting him, it will have profoundly useful effects long after the fighting fades into history and the US and UK forces have gone home.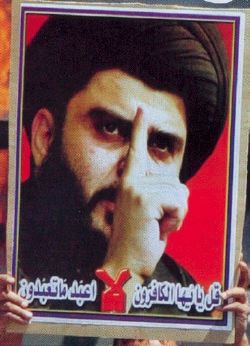 Translation: Follow my finger and shoot… here
Although Ali Sistani is, in the overall scheme of things, someone that the occupying powers can probably do business with (though that remains to be seen), it can only be helpful to his education if Muqtada al Sadr, that heir to the 'Mad Mahdi', can be seen to come to a fairly public and messy end surrounded by as many of his supporters as possible. Notions of putting this man on trial are to say the least 'unhelpful'.
If a successful confederated Iraqi republic is going to come out of this without falling into a democratically sanctified 'popular Islamic' tyranny like that which so many in Iran are trying hard to throw off with their own efforts right now, it is going to take some serious stick, and not just carrot, to make things come out more or less the right way. That is, alas, the way the real world works and hopefully the US and UK have the fortitude to see it through to its conclusion without cutting and running prematurely. So far the signs are reasonably good as only the usual suspects are bleating for political defeat to be plucked from the jaws of eventual military victory.