Much as I respect the analytical abilities of the CIA, surely I am not the only one who thinks the audio tape of 'Osama bin Laden' offering the hand of peace to Europe, provided Europe withdraws its troops from Muslim lands, is completely bogus.
Are we to believe that the head of that nasty global franchise called Al Qaeda cannot afford to purchase a cheap camcorder in a medina somewhere in Pakistan to reproduce the distressingly effective spectacle of Osama waving his finger at the USA and going "Nah nah, you can't get me"? The notion he is hiding what he looks like after radical plastic surgery is, I suspect, the product of watching too many Hollywood movies.
Sorry, but I do not buy it. If I was a betting man, I would wager that Osama bin Laden died in Afghanistan years ago either when that group of people was attacked by US aircraft and 'an unusually tall man was with them' (can anyone point me at a link to that story?) or he was buried in a collapsed tunnel after one of a number of heavy US air attacks.
Only time will tell for sure but although Al Qaeda lives, I very much doubt Osama bin Laden does.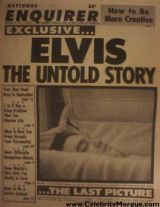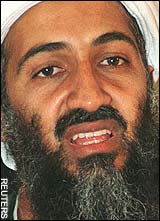 Both still dead