This is an thoughtful posting:
The weekend was spent in Manchester, via Oxford. On Sunday morning a friend and I visited the Imperial War Museum North, which forms part of the dramatic redevelopment of the quaysides around the ship canal on the Salford/Trafford border.

I was brought up on school trips to the Imperial War Museum in Kennington. The huge naval guns at the entrance, the trench experience, the endless tanks, artillery pieces and bombers' cockpits you can climb over, the uniforms, guns and bayonettes in cases. Regardless of your attitude towards war, you can't deny it is a fascinating collection.

So we expected something similar in Manchester, but were surprised. There are very few physical exhibits: one T34 tank, a field gun, a fire engine, and for reasons I still don't understand, a Trabant car. The cases are sparsely filled. The emphasis is not on weapons or uniforms or battles, but on the effect of war on people – refugees, children, prisoners, asylum-seekers, and peace protestors. So there were more letters and diaries than rifles and grenades. There was even a case filled with cultural items which reflect Britons' obsession with WWII: Warlord comics, action man, and Dad's Army.

There are frequent films projected on the vast walls – we saw one about children in war, and one about the 'causes of war' (it's all about oil and money).

This is not a place for a military historian or one who wants to see the development of the machine gun, but perhaps that's not what people want anymore. Does the new type of musuem reflect changing social attitudes, or is it trying to mould them?

At least the architecture of the building, designed by Daniel Libeskind, is stunning, and you can buy Airfix models in the giftshop (very tempting!).
"Stunning" means, from the outside, looking like this: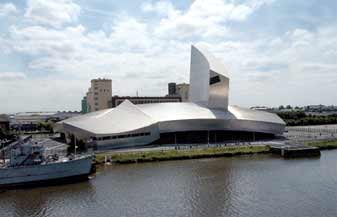 Normally, I do not dislike buildings of this sort. For modern art something along these (curvey) lines is very appropriate. But put it like this, if the people who fought and died in the wars being propagandised about inside this edifice were asked what they thought of it, what do you think they would say? Or is it that I now associate such buildings with harmless trivialities, that therefore it really does not matter what they look like, and that therefore the architect might as well have some fun – but this is a museum about war?
By the way, to add some other design-related facts, the genius who did the recent redesign of Samizdata.net, and who designed this and this, and also, not surprisingly, this, also did this.