As the economy of Zimbabwe continues its steady collapse into a Mad Max like wasteland under the thuggish tyranny of Robert Mugabe, perhaps we are seeing the first signs of resistance.
The rebellion by 6,000 black workers is the first in nearly four years of state-sponsored terror on the country's white-owned farms. Kondozi's 1,500 profitable acres provide huge quantities of runner beans, mange tout and red peppers for stores including Safeway, Sainsbury's and Tesco.

But the minister for agriculture, Joseph Made, wants the business for himself. A few weeks ago, he arrived at the farm with colleagues and ordered out the workers and the white owners. A fortnight later, scores of ruling Zanu-PF party loyalists were sent in but around 200 women workers fought back with broken tiles, stones and broken bricks. Shots were fired, apparently by pro-government thugs, but they were forced to flee. Mr Made was not available for comment.
As I have suggested before regarding the Logistics of Tyranny, if the 'aid lobby' was actually serious about the welfare of people in the Third World generally, and places like Zimbabwe in particular, they would do better to call for ending 90% of all aid payments to the kleptocratic governments that rule them and in place of the remaining 10%, send an equal value of weapons and ammunition to people who actually oppose the regimes keeping Africa from sharing the vast economic improvements elsewhere in the Third World.
One would think that because the vast majority of Mugabe's victims are not white land owners but are in fact the common black people of that woeful nation, this might move even the chattering classes in Islington, Berkeley and Grenwich Village to feel a spot of indigestion over their morning bowl of Muesli and hense to demand 'something be done', but I guess that only applies when the designated 'bad guys' are Jews (or Donald Rumsfeld), not black African socialists.
The only message people like Joseph Made understand weighs 55 grains and moves at about 3,100 feet per second. I do not lightly wish for bloodshed anywhere, but the occasional grimaces of the Guardian reading classes have not stopped the long nightmare of the people of Zimbabwe.
Arm the workers of Kondozi!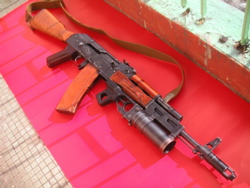 A couple truck loads of ammo and one for
these each of the workers of Kondozi and you
will have a real rebellion