Whilst undertaking a major reorganization of my house and all the junk accumulated over many years, I have been constantly rediscovering little treasures at the bottom of boxes or at the back of seldom visited closets which have not seen the light of day for many years.
One of the most interesting items to emerge today was a pristine £1 note issued by the Bank of Biafra: a poignant reminder of a truly savage war which raged between the Nigerian Federal Government and Ibo Separatists from 1967 until 1970. I acquired the banknote during a trip I took to Nigeria in the late 1970's with my grandfather. A business associate of my grandfather was a former Biafran soldier and gave it to me after we had a very interesting chat when we visited his home in Port Harcourt.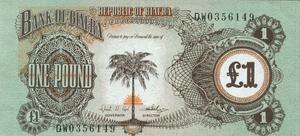 click for bigger image
The daily images of starving children with beri-beri during the dying days of the Biafran Republic was one of the first things I saw on television as a child which I recall having made a real impact on me. That was also what started both my fascination with Africa and my abiding cynicism towards it. I find objects like this bank note a fascinating bit of not-so-far-off history that one can hold in one's hand and finding such things is one of the reasons I have always so enjoyed travelling.