I had a small bit of free time this morning, so I have counted the December numbers for Coalition deaths. Without further ado, here is this month's plot: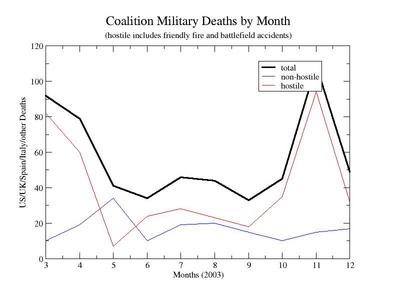 Copyright Dale Amon. All rights reserved. May be used with attribution to Samizdata
This month contains a higher number of casualties among other Coalition troops than usual. 5 Bulgarians and 2 Thai's are included in the combat deaths (hostile) count and one Pole was involved in a fatal accident (non-hostile). American combat deaths fell to 25; no Brits were killed either by accident or in combat in December (Two died in a road accident on the New Year). It is concievable but not provable the surviving Saddamites are specifically targetting non-US/UK forces in hopes of frightening their governments out of the coaltion. Only on the ground intelligence could tell us and that sort of information is rightfully not in the public domain.
Most significant, of course, is the large drop. One could hypothesize the opposition threw everything they had into a 'Tet Offensive'. Like the Viet-Cong before them, they lost; unlike the Viet-Cong there is no regular army from a neighboring country, armed and funded by a super-power, to take their place.
This is only a supposition; one cannot state this with any confidence of being correct until there are a few more months of data to back it up. One could alternatively hypothesize the enemy is quietly regrouping after their offensive. I do not believe this, but it is certainly possible.