I took this photograph of a street in North London earlier this evening (with a camera-phone, hence the poor resolution).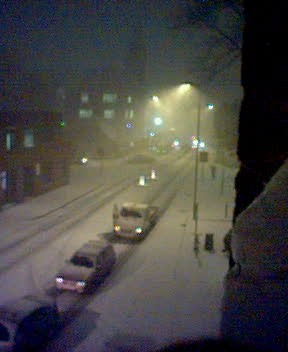 The snow that the weather forecasters have been threatening us with for the past week or so has finally swooped down with a vengeance (well, by London standards anyway).
But as I gazed out of window at the swirling storm, I was struck by an interesting idea. You see, due to my meticulous and detailed observations over many years, I have concluded that snow seems to occur during periods of very cold weather. And, by coincidence, these periods of very cold weather are also marked by a dramatic decline in the number of lurid 'global warming' stories appearing in the British press.
Conversely, during periods of very hot weather said 'global warming' stories make a sudden and almost miraculous re-appearance.
Are these two phenomena linked in some way? Is this a clue to the existence of as yet unseen and mysterious forces that science has, hitherto, been wholly unaware of? I shall continue with my research in the hope that more will be revealed.