I feel about skyscrapers the way lots of other libertarians feel about space travel. I may have all kinds of doubts about the purity of the capitalism that gives rise to them, but… wow! And I want now to mention here a particularly impressive one, soon to be built in London.
I'm talking about London Bridge Tower.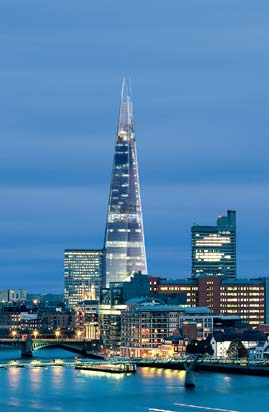 I have already commented on this tower as a mere plan on my Culture Blog, here, and before that here. But what I later missed was that last November, the building received planning permission and is now definitely going to be built.
My first reaction to the first faked photos I saw of this immense spike was that it looked like a paper dart that had already been thrown a few times and had had its spike somewhat damaged. Now, I find myself looking forward to its construction immensely. Expect photos here of it as it takes shape in the years to come. Building starts in 2005 and will be complete, or such is the plan, in 2009.
It is to be built in one of my favourite London places, namely on the south bank of the River Thames, which just gets better and better with every year that passes. Recently they have added the Wheel, and the undeniably impressive if decidedly fascist looking Bankside Power Station has metamorphosed into Tate Modern, the interior of which is very fine even if it does not seem to contain much else that is much good most of the time. Eventually they may even sort out that nothing space next to the Wheel. You can already walk all the way along the river on the southerly side through the centre of London, and this tower will only add to the fun.
The reason why London Bridge Tower will be such a draw is that we will not just be able to walk past it and gawp up at it; we will also be allowed to ascend within it and gaze out upon London, from a viewing gallery half way up, and from another public spot near the top. What this will cost I do not know, but I will be doing one of those trips at least once, I can tell you. Quite how all this public participation was contrived, I don not know, and no doubt some of the politics involved was of the sort we here might not approve of, but personally I am delighted about all this.
This tower is the work of Renzo Piano, who co-designed the Pompidou Centre in Paris. Of this massive object he has this to say:
I don't believe it is possible to build a tall building in London by extruding the same shape from bottom to top. It would be too small at the bottom and too big at the top.

Likewise, symbols are dangerous. Often tall buildings are aggressive and arrogant symbols of power and ego, selfish and hermetic. The tower is designed to be a sharp and light presence in the London skyline. Architecture is about telling stories and expressing visions, and memory is part of it.

Our memory is permeated by history.
How nuanced. How European. He even manages to turn the tallest building in Europe into an anti-American statement. Well, if that is what it takes to get a thing like this built, then well said Renzo, I say.
And even if you disapprove, it can not possibly end up being as big an embarrassment as this. Although I find that I like the look of that also, more and more, however totally useless it may be. It is the Space Shuttle of skyscrapers, you might say. Concorde pointing upwards.