A question. What exactly is the function of the shop in this photograph?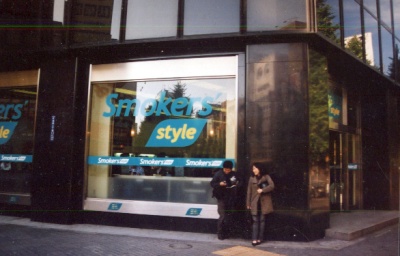 I will get to this in good time, but first, a little travelogue.
A couple of weeks ago, I spent the weekend in Tokyo. I did this because Tokyo is one of my very favourite cities, and because the 23 hour plane journey from Sydney to London is much more pleasant if you take a break in the middle. On Sunday morning, I went for a walk around Akihabara, famously the section of Tokyo where you go to buy the latest electronic products. This area consists mainly of a group of buildings filled with small shops and market like stalls selling components and generic products near the railway station, and a long wide street. Down both sides of this street are a large number of seven or eight floor shops that sell nothing but electronic equipment, in this case mainly consumer equipment. And, mixed in with the electronics shops, are manga shops. These are seven or eight floor shops selling nothing but comics. The comics sold on the lower floors are fairly innocuous, but get steadily more pornographic as you ascend the building, and those sold on the top level are quite hard core.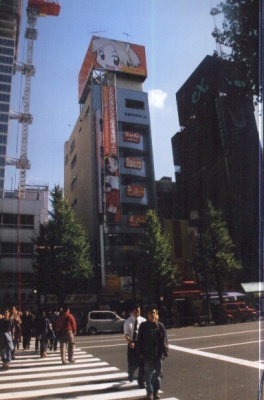 As I walked down the street, I was repeatedly approached by young Japanese women in short skirts who would hand me flyers about electronic products, or (usually in broken English) attempt to ask me if I already had DSL. (My answer, which was "Yes", and "Anyway, I live in London" was not what they were looking for, although one of them thought it would be cool to live in London).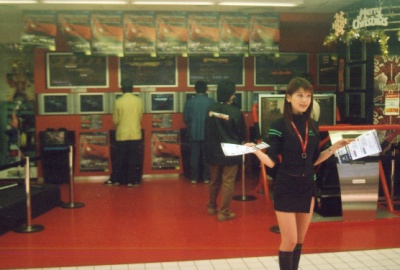 Not too different from what I might find in certain places in the west. But things would get stranger. Some of the laptop computers I saw in these shops were extremely impressive: the sorts of things that can only be bought outside Tokyo with great difficulty. I asked a salesman whether it was possible to buy one laptop in particular tax free, as if I bought it I would be taking it out of the country the next day. Apparently though, there is a complicated bureaucratic procedure that has to be gone through to do this, and in particular there is some form that he certainly did not have and that I should have obtained at the airport. Clearly he didn't sell many computers to foreigners.
Large department stores will however provide some assistance to foreigners who want to buy tax free goods. Well, sort of.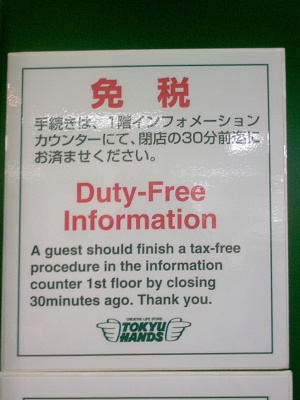 But there did not seem to be much of this in Akihabara. And anyway, I was informed at the last possible moment, that laptop did not come with the English version of Windows. So, no laptop for me.
However, walking frustratedly down the street, I saw one shop on the other side of the street that was not an electronics or comic book store, the one that I posted the picture of at the top of this article. I was so intrigued by "Smokers' Style" that I crossed the road and went in. This may or may not have been a good thing, as I was struck by an almighty stench when I entered. Yes, it was exactly what I might have guessed. I was in a room containing nothing but enormous ashtrays, vending machines, a few racks containing what looked like the sort of magazine you get on airlines advertising overpriced in flight duty-free goods that are only actually purchased by people in business class who have forgotten that it is their wedding anniversary, and Japanese men puffing on cigarettes.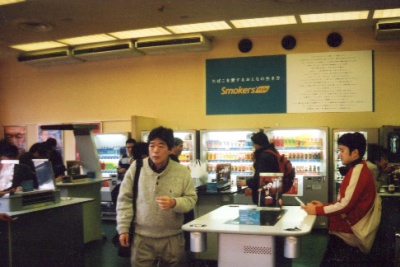 I am not sure how this is quite profitable, but someone has set it up in Tokyo. Of course, if it was in London the Blairites would have denounced this place repeatedly and then shut it down, and heaven knows what Michael Bloomberg would have done in New York, but the Japanese seemed fairly relaxed about it. To this non-smoker, the environment was mind blowingly disgusting. None of the research attempting to connect passive smoking with cancer is particularly convincing, but this place would be an ideal location to test extreme cases, because this place must have more intense passive smoke than any other location in the known universe. But no harm in that. (At least, not to anyone other than the smokers, and that's their business). Non-smokers simply don't go in, unless they are curious foreigners like me. So I was out of there.
And I had other missions on my mind. Because so far I had only scratched the surface of how politically incorrect one can be in Tokyo. I headed for Shibuya, where I had a beer and some whale meat. Definitely red meat, a little gamey, the steak probably tasted a little more like lamb than beef. Delicious, though.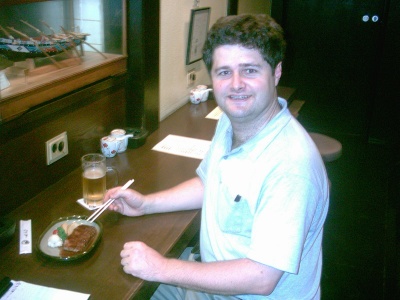 Here's to scientific research.