This is big. I mean it is really big. It is so big I had to take time from paid work to pass it along.
A small entrepreneurial company, Changing World Technologies, has just extended the Petroleum age to infinity. That's right. We aren't going to run out of oil. Ever. To top it off, we won't be adding more carbon to the atmosphere – we will just be recycling the same carbon stocks over and over again. Even better: we can tell OPEC to go rotate because fuel imports will become a thing of the past.
Does this all seem like fantasy? It did to me when I first heard about it, but the more I read the more convinced I am. The technology takes any carbon based waste, and I do mean any carbon based waste and turns it into high quality oil, water and some minerals at 85% energy efficiency. 15% of the output supplies enough energy to run the process. It's not hype and vu-graphs either. They've got a real pilot plant going up beside the Butterball Turkey plant in Carthage, Missouri. Oil from turkey offal.
They estimate the US could supply all of it's oil needs from recycling. It's not a technology likely to get buried either. The large oil companies can phase into the new technology with hardly a dropped dividend.
It is also of interest for the 'Small is Beautiful' crowd and those of us in the Space settlement community. The technology scales both up and down. If you live in the middle of the Australian outback, you can chuck your shite and animal carcasses into the hopper on one end… and fill up the old diesel RV from the other fifteen minutes later.
Julian Simon is giggling in his grave.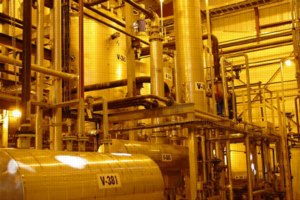 Carthage, Missouri Commercial Plant at Butterball Turkey factory is operational.
Photo: Changing World Technologies
The economic, strategic, social and libertarian implications of this are huge. I've not the time to write down the mass of thoughts whirling around in my head right now, but I am certain I can depend on our literate readership to expand on the possibilities and write them up for me. See you in comments when I've some spare time!
One of our readers has pointed out this article about the current status of the venture. The first plant is online and others are now funded and in planning.