The Drug 'War' continues to dement US society in new and innovative ways that even a cynic such as myself find hard to credit. This is truly staggering:
Gun-toting police burst into a South Carolina high school, ordering students to lie down in hall ways as they searched for drugs. The commando-style raid has parents questioning the wisdom of police tactics. The raid occurred Wednesday at Stratford High School in Goose Creek, S.C. Surveillance video obtained by CBS Affiliate WCSC in Charleston shows the police waving their guns and searching lockers as students lie flat on their stomachs or sides. The school's principal defends the dramatic sweep, caught on the school's surveillance tape. Police came into the school with guns at the ready, ordered all students to lie on the floor and then handcuffed anyone who apparently didn't comply quickly enough.
I am sorry, but some square headed jerks in blue shirts start waving guns around a bunch of children who are just going about their business at school, and it is reported that parents are "questioning the wisdom of police tactics"? Questioning the wisdom of police tactics? To quote that wit and sage Eddy Murphy, get the fuck outa here. I would be looking for some heads-on-spikes if a child of mine was subjected to that sort of treatment. How this incident has not resulted in angry mobs in the streets throwing rocks is beyond me. What does it take to really piss these people off?
So… attention all parents in Goose Creek: are you starting to have second thoughts about the wisdom of entrusting your children to state 'care' yet? Unbelievable.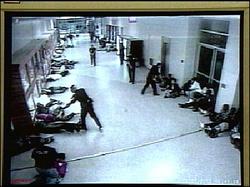 And now class, today's important lesson:
The state is not your friend.
Any questions?
via Catallarchy.net