There is little doubt there has been a perceptual disconnect between the reports from the hotel bar in Baghdad and those of virtually everyone else on the scene. The difficulty for someone sitting a long distance away is to judge who really is the more accurate.
Lazarus Long, or more accurately his creator Robert Heinlein, said "If it can't be expressed in figures, it is not science; it is opinion."
Earlier this month I decided to take a closer look at the relevant figures. I've been tracking the results on a day by day basis ever since. As it is now the end of the month, I am publishing my results.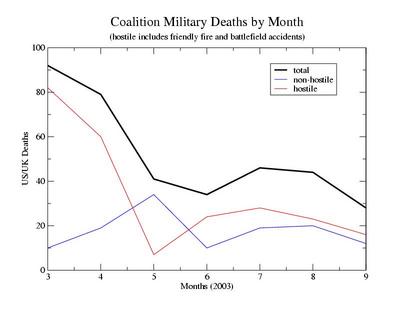 D.Amon, all rights reserved, may be used with attribution to Samizdata
The graph is rather striking in its clarity. There are three phases visible. March and April are quite obviously the period of major combat. The second is May; combat deaths plummet to almost nothing while the accident rates skyrocket. The third period is one of minor combat. Accident rates fall drastically but combat deaths climb to a minor peak before tailing off slowly. At present the combat death rate is running an almost insignificant amount over the accident rate.
My interpretation of the graph is:
March and April are clearly the period of major combat.
May is a postcombat month. Remnants of the regime are dispersed and disorganized. There are a lot of dangerous ordinance laying about. Soldiers are tired, ease up slightly and have more accidents because of it.
June through the present is a period of low intensity conflict. One can read the state of the opposing forces in the short-lived secondary peak followed by a long tail off. That tail-off is their journey into oblivion.
It will be interesting to see if the end comes with a bang or a whimper. One could imagine a last desperate and suicidal offensive by the remaining Saddamites. Alternatively, if Saddam is calling the shots and is taken out of the picture the remnants might just quit and go elsewhere. The most likely scenario – in my opinion – is an exponential tail-off in as the remnant forces are killed or captured