Like I said, respect for the law appears to be on the wane. Although the word 'hostility' might be even more apposite:
They are the black knights of the road; balaclava-wearing highway hitmen out to burn, bomb, decapitate and dismember. But drivers need not fear, for it is speed cameras that this growing band of rebels are after.

Up and down the country, the tools used to keep roads safe are being ripped down, blown up and even shot apart as part of a campaign orchestrated by a gang of web-surfing outlaws. They threaten to become the most popular gang of criminals since Robin Hood and his Merry Men stalked the countryside.
Forsooth, methinks the commoners may be in need of folk-songs.
From the south coast to the Highlands no camera is safe. Known as Gatsometers, or Gatsos, they are being destroyed at a rate that has alarmed police forces. Particularly destructive cells are operating in north London, Essex and Wales – where they rage against machines deployed by renowned anti-speeding police chief Richard Brunstrom.

With each unit costing £24,000 to replace, a huge bill is being run up. But the rebels are unrepentant, claiming the cost is more than met by speeding drivers' fines. Speed cameras, they argue, are not about keeping roads safe, but about raising revenue. The charred remains of their victims are often adorned with stickers or graffiti which declare cameras to be stealth tax inspectors.
Of course, we at Samizdata.net could not possibly condone these irresponsible actions by an anti-social minority.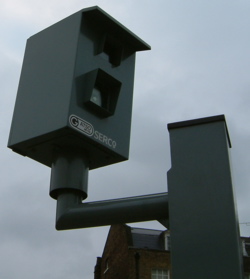 The Target for Tonight?
[My thanks to Dr.Chris Tame for posting this story to the Libertarian Alliance Forum.]