It is now an established Samizdatista hobby whenever we gather: taking the piss out of Brian for his unhealthy interest in car parks.
Well, you're all completely wrong, and you're all missing the point completely, or rather, getting hold of the right stick, but at completely the wrong end. Don't you get it? The very thing that makes my fascination with car parks so laughable to all you idiots is my exact point. Car parks, now, are, almost all of them, crap. So, obviously, a car park spotter is ridiculous. Ho, ho, ho. But the crapness of car parks now is my exact point, and I am only a car park spotter if the car park in question, unlike almost all car parks nowadays, is worth spotting.
Like this one, linked to about a month ago by David Sucher of City Comforts Blog, but which I've only just noticed his posting about, in Staunton Virginia.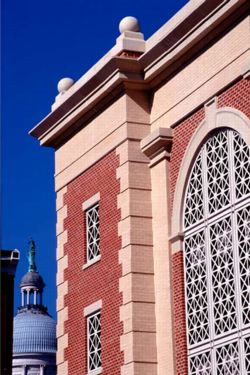 Said ArchNewsNow.com all those weeks ago:
Staunton, Virginia, has worked hard to preserve and enhance its historic neighborhoods and to keep its downtown vital and attractive. The city's ongoing attention to streetscape, underground power, and building preservation is creating a vibrant, resurgent, and energetic community.

One of the "stars" of the downtown regeneration is, of all things, the New Street Parking Garage. The design for the garage, by Staunton-based Frazier Associates, came out of an inclusive team approach: the designers worked closely with government officials and local citizens (in a city known for its resistance to change) through an intensive public design process.

The result is a new "landmark" building at the entrance to downtown Staunton. "In the past, architects designed beautiful buildings for visitors to arrive in," says design lead Kathy Frazier, AIA. "Somehow that didn't get translated to parking garages, and people grew accustomed to parking in these ugly utilitarian buildings. The question we asked ourselves is 'Why can't we make a parking garage beautiful and celebrate the arrival sequence like we used to with train stations?'"
The idea of an ye olde looking car park doesn't really appeal to me. Why can't it look snazzy? Like, say, a snazzy car? But the reality of the thing seems actually to be rather handsome. And if a railway station can look ye olde, why can't a car park? Thinking about it, all manner of high tech structures actually used to be done up in Greek Temple or Roman Villa style, such as water pumping stations, power stations, railway signal boxes, railway tunnel entrances, railway bridge towers. It isn't just the grand city terminuses. So why not car parks?
But don't let the argument about style deflect from the important thing about this, or any other such design, which is that concentrating parked cars in a heap rather than letting them sprawl all over the landscape doesn't just rescue the aesthetics of car parking, but the aesthetics of the entire surrounding neighbourhood.