I have just got back to London after spending the night in more northern parts, where I gave a talk about blogs and blogging at Liverpool's rather swanky new downtown FACT (Film, Art & Creative Technology) centre.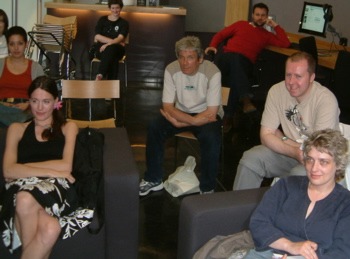 Many people are looking for the FACTs about blogging in Liverpool
It is good to proselytize the joys of blogging to a wider audience. Although though the audience was rather technology savvy, blogging was a completely concept to many of the people there. Also interesting was to see a couple people in the media lounge where I turned up to give my talk reading Salam Pax's blog.
On a day in which an article in The Times notes the power of blogging to scare the living daylights out of some sections of the established media and quotes blogger Mickey Kaus, it is interesting to see our blogger-in-arms in Iraq helping to raise the profile of blogging generally in places like Liverpool.
I even managed to meet a new potential client for my latest business endeavor, a blogging consultancy that will show companies how blogs can greatly assist their businesses. Together with two fellow Samizdatistas David Carr and Adriana Cronin, who was the one who thought up and elaborated the idea, we have started a new venture called the Big Blog Company.
Blogs are increasingly starting to enter the public consciousness … we are spreading like a virus but are much more fun that SARS