It is a strange experience finding myself supporting Tony Blair, the man who presides over my ongoing robbery by the British state, let alone quoting his remarks of yesterday approvingly, but I suppose these are strange times:
There will be no march for the victims of Saddam, no protests about the thousands of children that die needlessly every year under his rule, no righteous anger over the torture chambers which, if he is left in power, will be left in being.
I just wish the people marching yesterday would spare us the nauseating claim to the moral high ground and, if they still oppose the war, just acknowledge that theirs is an emotional rather than a moral argument and that the reality of their position is that if they get their way, Iraqi people will continue to die at the hands of murderous Ba'athist socialism in Iraq whilst they smugly congratulate themselves on their 'having prevented a war'.
Preventing the overthrow of the people who did…
this…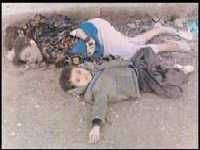 and…
this…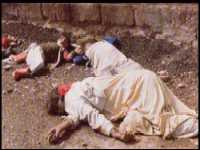 … to the people of Halabja with a weapon of mass destruction (poison gas) is the reality what those marchers are trying to achieve.
Regardless of how you feel about George W. Bush or Tony Blair or capitalism or Israel or the Palestinians or globalisation or anything else, that does not change the fact that the continuation in power of the murderous Saddam Hussain and his Ba'athist thugs will be the consequence of appeasement. Is that what you want? Is it?